Thursday Folder Weekly Email
Jenna Sladek
Friday, November 22, 2019
Happy Thursday!
We will NOT have school next week 11/25-11/29. School resumes on 12/2.
PTO is working hard and doing GREAT things!
Truman Spirit Store - Here is the flyer: https://5il.co/bhw5
The store is open NOW and will close on 12/2!
Here is the link to the Spirit Store directly: https://store.kickprint.com/TrumanTribe/shop/home
*****All sale profits will go towards #Shade4OurPlayground
Texas Roadhouse Gift Card Sales - Here is the flyer: https://5il.co/bhy6
Gift card sales are open NOW and will close on 12/2!
Some clarification about the Texas Roadhouse gift card fundraiser. Students will not get the cards right away. If they are done selling they can return their folder to school any time, but we hope students can use the break and family time to sell more cards before they are ready to return! Texas Roadhouse will make our cards with the Truman logo on them – so they will not be sent home until the week of Dec. 16th. The week of Dec. 2nd we will be around and give every student that sold a card a gift bag from Texas Roadhouse with a red letter attached with directions for parents to return giving us information on how they want the cards to go home. (With the child or will they pick up at SACC)!
Variety Show Auditions & Show Date - Here is the flyer: https://5il.co/bhy7
This is year the show is in APRIL! This is different than what you are use to but we are excited for a spring show! See the flyer for more information!
Supporting our community #MVNation:
Christmas Tree Flyer - https://5il.co/bhy5
Christmas on the Plaza Flyer - https://5il.co/bhyd
Last, but NOT LEAST, #ThankfulThursday:
Sometimes it is nice to take a deep breathe and think of all the positives that are surrounding us. We wanted to extend our gratitude to our Tribe. We passed out notes at dismissal for all of you to receive, if you did not, we want you to know "WE ARE THANKFUL TO HAVE you as a part of our Tribe Family. THANK YOU FOR trusting us with your student, WE SURE DO LOVE THEM! Love, Truman Elementary!"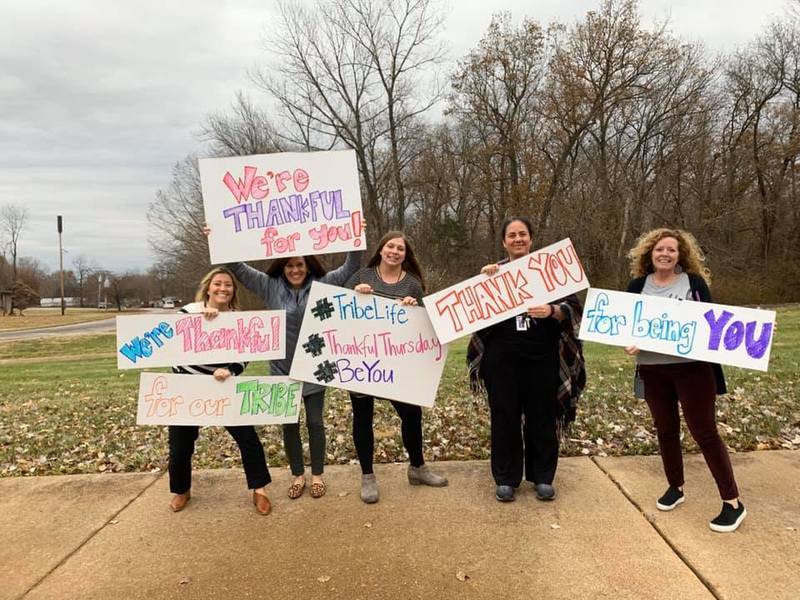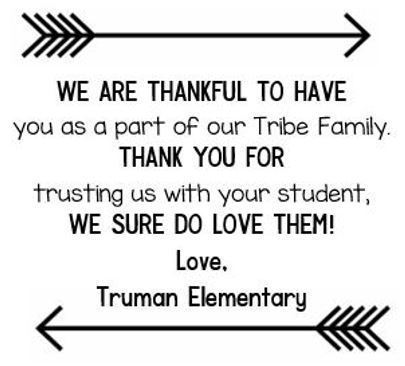 Leading & learning with a smile,
Dr. Jenna Sladek; Ed.D
Principal, Truman Elementary
P:(636)271-1434 M:(636)346-6156
A: 101 Indian Warpath Dr Pacific, MO 63069
W: MVR3 Website: Truman Elementary
Grow. Decide. Strengthen
Commit. Lead. Succeed.