Take a look at the MVR-III online store to purchase t-shirts, hoodies, and more. Text option available by texting MVR3 to 900900. The store closes on Sept. 27th. Happy shopping!! #MVNation
https://MVR3Merch.com
Picture Day is: Friday, September 25, 2020 Wagner Portrait Group will be photographing students for portrait packages & school records. This will be your special opportunity to purchase your school pictures!
https://bit.ly/2RUv6KF

From MVR-III: Dear Parents/Guardians: This is a reminder that Riverbend Parent-Teacher Conferences are tomorrow, September 23, from 4:00 pm - 7:00 pm. Conferences are by appointment only. To comply with current safety protocols, no "drop-in" conferences will be held, and masks will need to be worn. Please contact your student's teacher if you still need to schedule a meeting time. If you are unavailable to meet during those times, please contact the teacher directly to arrange a meeting. Sincerely, Dr. Andy Arbeitman
Are you looking for some new school apparel? Take a look at the
www.MVR3Merch.com
online store to purchase t-shirts, hoodies, and more. Text option available by texting MVR3 to 900900. Happy shopping!! #MVNation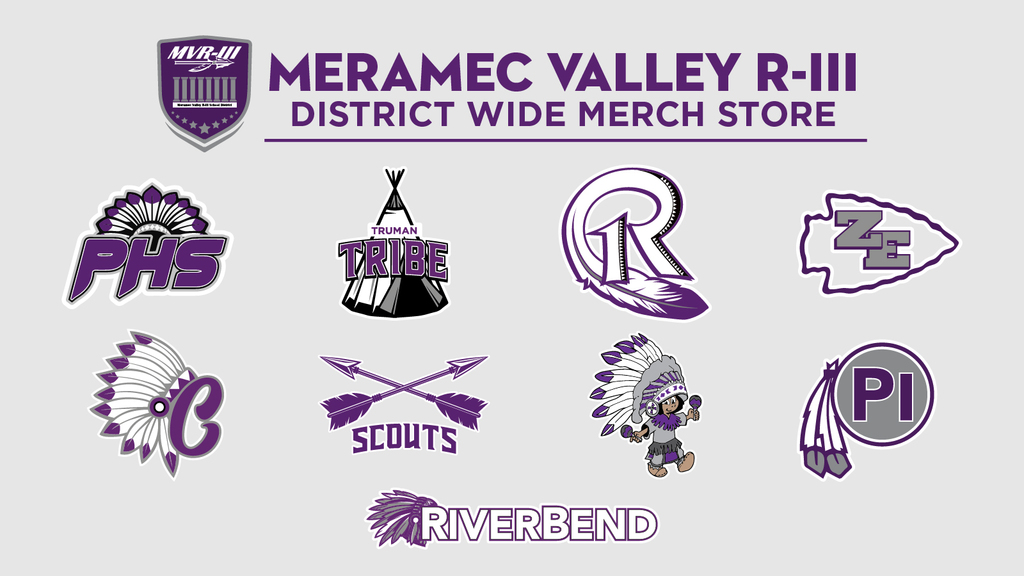 Riverbend families, just a reminder that it is never too soon to check your student's grades. We are here to help! Reminder that 4 semester F's will result in summer school and 5 means possible retention. Ask for help early and often. We can be successful when we work together. #RBMSbettertogether
MVR-III Fall Sports and Activities Guidelines... we want to inform our families and community of the Activity Spectator Guidelines and share our appreciation of your support in maintaining these guidelines to allow our students to safely participate in these activities. The Four Rivers Conference as a whole has made the following guidelines and recommendations in response to the COVID-19 pandemic that all 8 schools will follow regarding athletics for the 2020 Fall Sports season. The high school is working on providing live streaming access to student activities when seating is limited due to the safety guidelines. *Stadium capacity will be limited to 50%. *Families of student-athletes, as well as the student body, will have first priority for available tickets. *Spectators are asked to sit in family/household clusters. *Students 8th grade and under will not be admitted without being accompanied by a parent. *Keep 6 feet distance from other groups. Read the full guidance plan at
https://www.mvr3.k12.mo.us/article/292416?org=mvriii
.

Follow the link below for information on fall athletic tryouts for PHS & Riverbend MS. Don't forget registrations and physicals must be submitted before tryouts! pacifichs.rschoolteams.com #rolltribe #MVNation

Riverbend yearbooks will be distributed at the beginning of the 2020-2021 school year.
Ensuring all students have the technology and internet access they need to engage in online learning is an enormous challenge for school districts, especially those in rural areas with limited technology availability. Starting Saturday, April 18th, the MVR-III School District is offering free WiFi availability to students from the parking lots of Pacific High School and Coleman Elementary (lower parking lot). To access the WiFi, search MVR-3 Guest. We expect to have additional sites available by April 27th. While on campus, please adhere to the CDC's guidelines of social distancing: *Stay at least 6 feet from other people *Do not gather in groups *Stay near your vehicle *If you are sick or suspect you are infected with the COVID-19, please avoid using our campuses

Reminder-Please join us for our parent advisory meeting at 5:30 pm Monday March 9th. All are welcome.

Congrats to both the 7th and 8th grade girls volleyball teams on their wins at St. James tonight!!

Reminder-we would love Riverbend parents to join us at the upcoming parent advisory meeting on March 9 at 5:30 pm. The meeting will take place in the Riverbend library.
The Boys 7th & 8th grade home basketball game against St. Clair Junior High will be played at the regular scheduled time. 7th grade game starts at 5:30 p.m. with the 8th grade game starting at 6:45 p.m. Join us this evening to cheer on the Riverbend Indians.

7th grade boys for the win tonight against Owensville

Due to the inclement weather this week, we will only be giving finals in our core classes. If we have school as normal tomorrow, Wednesday, December 18th, we will give the English final as it was already scheduled for Monday, December 16th. Then on Thursday, December 19th, we will give Math, Science, and HIstory finals. All other classes can utilize their finals as supplemental/study guides, etc. If we have a late start tomorrow or no school tomorrow, we will have all finals in core classes on Thursday, December 19th.

From MVR-III: MVR-3 Message: I hope this message finds you warm & toasty! Late start has been removed for Nov. 13th. All schools will start at their regular scheduled times tomorrow. Buses will run at their normal time and schools will begin at their regular scheduled times. Bell rings at 7:30 a.m. for grades 5-12 and 8:35 a.m. for grades K-4. Enjoy your day!

Julie Patton and Ellie Nahm were also named to the All-District JH/MS Jazz Band!

CONGRATULATIONS to the following students who auditioned for and were selected to the East Central District #7 Junior High/Middle School Honor Band: Annabelle Schneider, Lily Church, Julie Patton, Paige Robbins, Ellie Nahm, Megan Lackey

The boys played hard tonight as they took on St. James. Tons of action on a beautiful night. Proud of our football players!!!

Eighth grade girls basketball does it again. They bring home the win 21-7. Seventh grade girls played with heart and hung tough. We are proud of both teams. Way to go ladies!! #MVNation

Final score for our eighth grade girls 23-18. Way to go ladies!!!

Eighth grade girls up 14-10 at halftime. Hoop hoop!!!!

Huge shoutout to Riverbend's cross country team. Way to push through at today's meet in Forest Park. #RBPride #MVNation

Riverbend boys did a great job of representing at today's New Haven cross country invitational. Cody Stahl placed 2nd with David Magsigay and Luke Wade finishing strong. Way to go gentlemen!! #RBProud

Riverbend girls placed 5th overall in today's New Haven cross country invitational. Three members placed in the top 10. Rhyan Murphy 1st, Madison Land 6th and Jaylynn Miller 8th. Way to go ladies!! #RBProud

Great job Riverbend cross country runners!! #RBProud

Enjoy your long weekend Riverbend families. We will see you Tuesday. #MVNation

Late start tomorrow 8/28. Reminder that drop-off and buses will be 30 minutes later.

Thank you for joining us at the Riverbend Middle School open house. #MVNation