Trunk or Treat for this Friday, 10/29/21, LOCATION CHANGE!
PLEASE READ!!!
Due to the High School District Football game and the PHS Musical, HONK!, all happening on Friday night at the same time as our Trunk or Treat we have made the decision to CHANGE LOCATIONS. We will have our Truman Tribe Trunk or Treat Title/PTO Event at Riverbend Middle School from 6:00pm-8:00pm.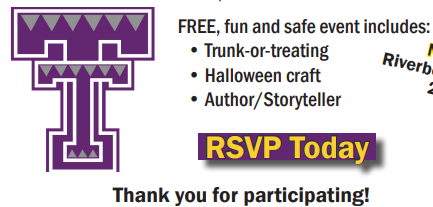 The Event is FREE! We will have books, crafts and a read aloud prior to Trunk or Treat! Guest will park around the side and back of the building. We will have all guest enter the main entrance doors where there will be access to restrooms and we will have a read aloud, free books, and a craft from 6:00pm-6:45pm. (If you are a trunk you will have from 5:30-6:30 to set up your trunk. We will release the students and families in staggered groups starting at 6:45pm. We will finish all trunk or treating by 7:45pm. and close up everything by 8pm.
Thank you for your flexibility with the location change.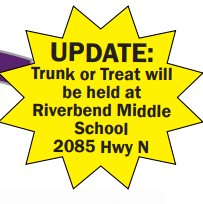 PEASE RSVP here: https://www.signupgenius.com/go/10c0f49aeaa2eabfdc34-trunk
Leading & Learning with a smile,
Dr. Jenna Sladek; Ed.D
Principal, Truman Elementary
P:(636)271-1434
M:(636)346-6156
A: 101 Indian Warpath Dr Pacific, MO 63069
W: MVR3 Website: Truman Elementary