Truman Elementary celebrated #ThankfulThursday today! We hope you know how much it means to us for YOU to be a part of our Tribe 💜 #TribeLife #MVNation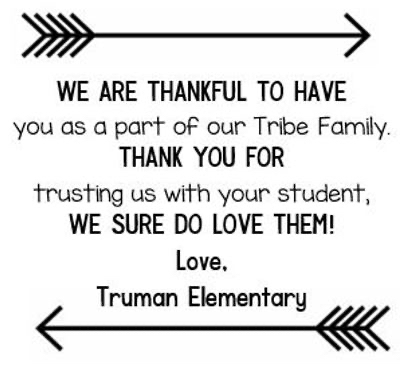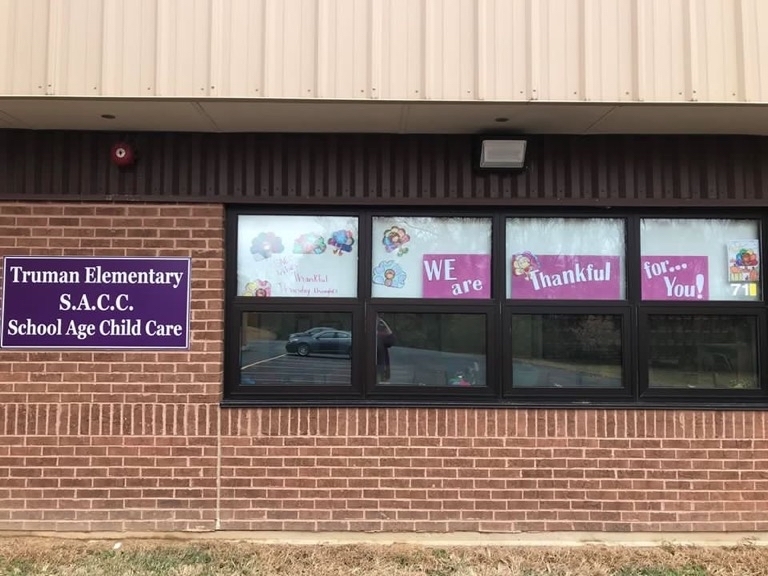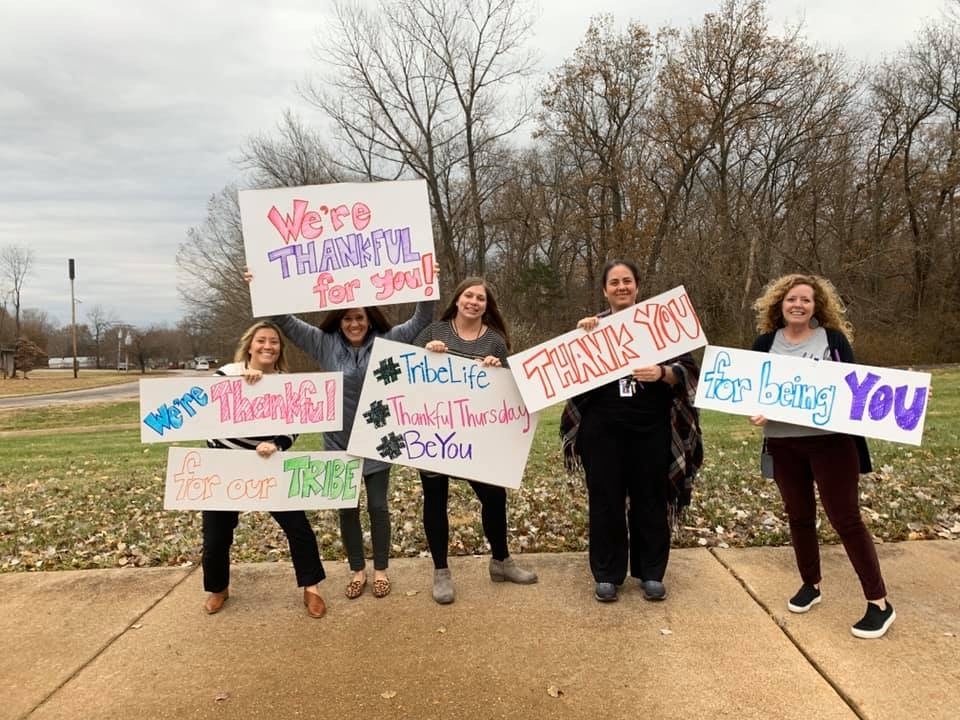 Happy Thursday! We will NOT have school next week 11/25-11/29. School resumes on 12/2. PTO is working hard and doing GREAT things! Truman Spirit Store - Here is the flyer:
https://5il.co/bhw5
The store is open NOW and will close on 12/2! Here is the link to the Spirit Store directly:
https://store.kickprint.com/TrumanTribe/shop/home
*****All sale profits will go towards #Shade4OurPlayground Texas Roadhouse Gift Card Sales - Here is the flyer:
https://5il.co/bhy6
Gift card sales are open NOW and will close on 12/2! Some clarification about the Texas Roadhouse gift card fundraiser. Students will not get the cards right away. If they are done selling they can return their folder to school any time, but we hope students can use the break and family time to sell more cards before they are ready to return! Texas Roadhouse will make our cards with the Truman logo on them – so they will not be sent home until the week of Dec. 16th. The week of Dec. 2nd we will be around and give every student that sold a card a gift bag from Texas Roadhouse with a red letter attached with directions for parents to return giving us information on how they want the cards to go home. (With the child or will they pick up at SACC)! Variety Show Auditions & Show Date - Here is the flyer:
https://5il.co/bhy7
This is year the show is in APRIL! This is different than what you are use to but we are excited for a spring show! See the flyer for more information! Supporting our community #MVNation: Christmas Tree Flyer -
https://5il.co/bhy5
Christmas on the Plaza Flyer -
https://5il.co/bhyd
Last, but NOT LEAST, #ThankfulThursday: Sometimes it is nice to take a deep breathe and think of all the positives that are surrounding us. We wanted to extend our gratitude to our Tribe. We passed out notes at dismissal for all of you to receive, if you did not, we want you to know "WE ARE THANKFUL TO HAVE you as a part of our Tribe Family. THANK YOU FOR trusting us with your student, WE SURE DO LOVE THEM! Love, Truman Elementary!"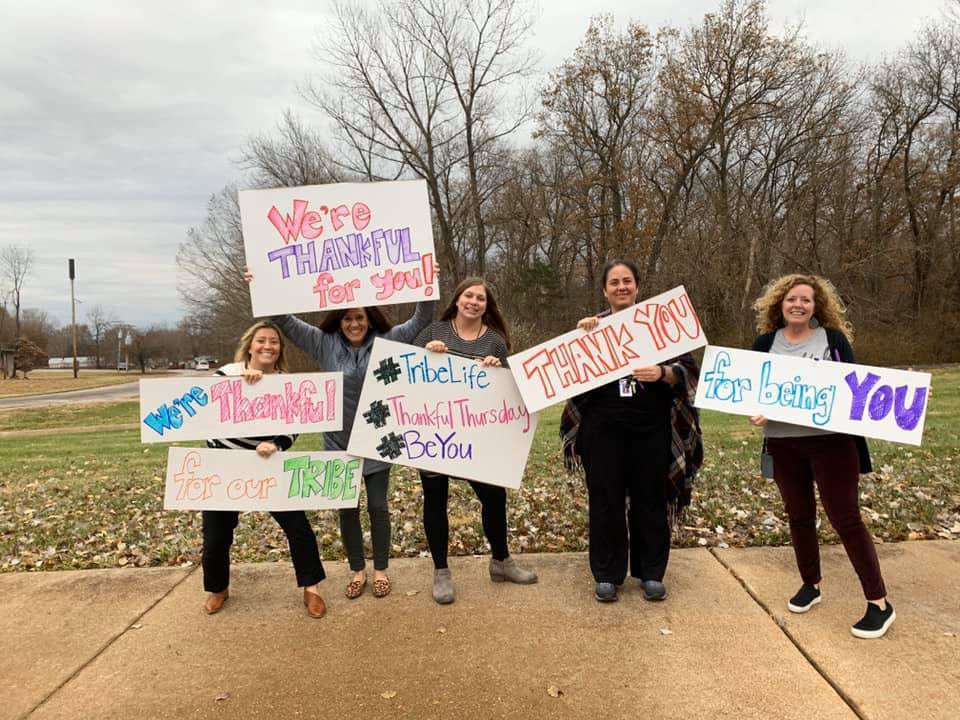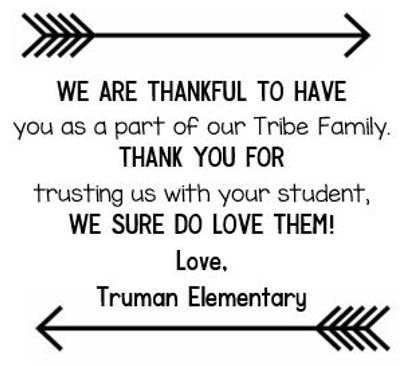 Finish this week strong with our Thanksgiving Basket Drive! Friday: canned pie filling and pie crust. ***We could use more boxes potatoes and gravy! Something to celebrate while we are focusing on giving this week. Truman Ambassadors filled the back of the Agape House Van with canned goods that we have collected over the past couple months and on #GivingWednesday! I am so proud of their smiles, leadership, and giving hearts 💜 #TribeLife #MVNation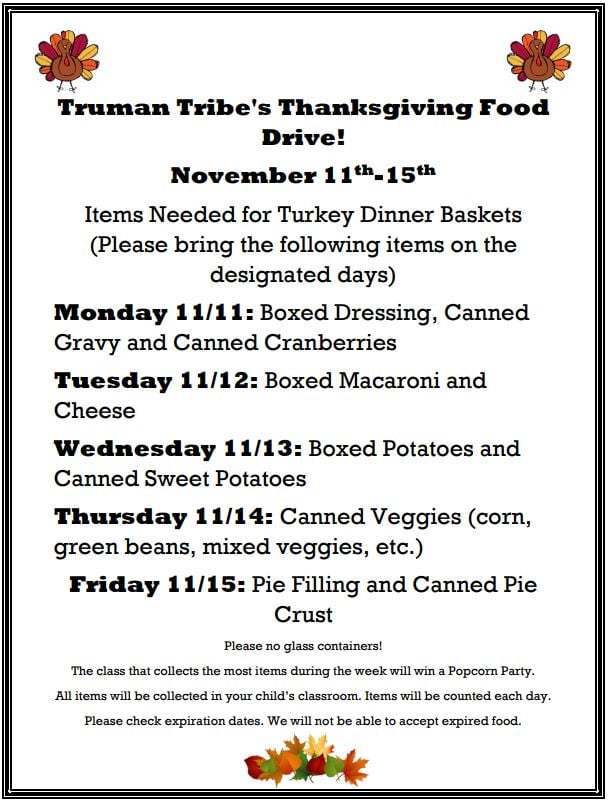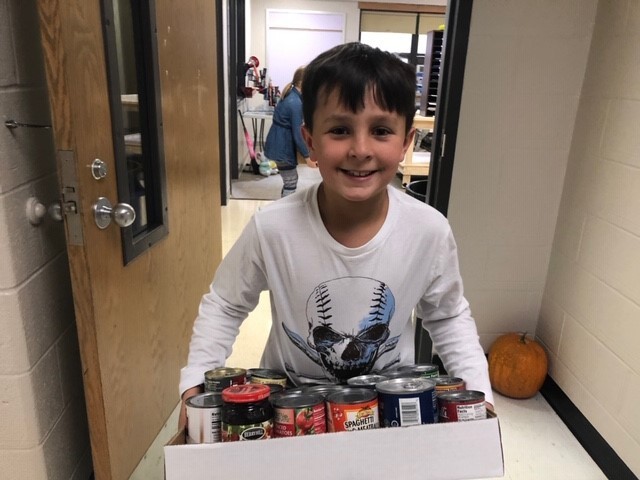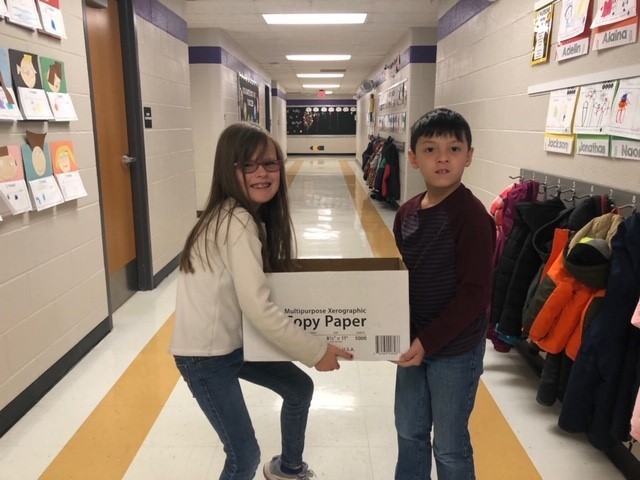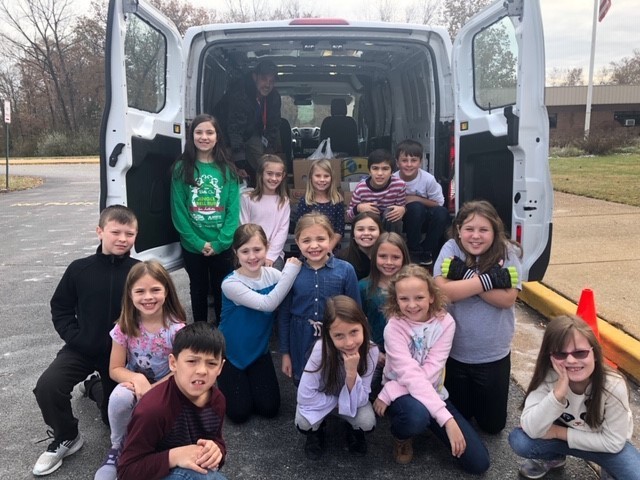 It has been a crazy week with weather but we have worked through it and are excited for the weekend! We are finishing up our Thanksgiving Drive - see this flyer to bring in any last minute items: Thanksgiving Drive Flyer Next Wednesday we have another Pizza Hut Night Out (these flyers will come home on Monday!) but are also attached. Progress reports will be sent out next Friday 11/22! Also next week is our last full week and then we will have a full week for Fall Break. There is NO SCHOOL 11/25-11/29. PTO - Texas Roadhouse Gift Card Fundraiser was sent home and is open for selling NOW through 12/2. See attached. ***This one is just to put on your radar but know that you still have plenty of time and more reminders will go out in future weeks = Variety Show Auditions! See attached. ast, I just want to leave you with an 'ah-ha' moment that I had this week...it dawned on me multiple times throughout the week the importance both in young and mature minds how critical it is to have a Growth Mindset. Not only is it important to have but more important to teach, model, and practice on a daily basis. I have attached a little info-graphic explaining the main ideas of having a growth mindset. I would encourage you to look more into it more on your own if your are curious! The thought of encouraging and supporting our students self-confidence will be so contagious among our building! It will allow them to interact with more self assurance. It will allow them to encourage others. It will allow them to smile more. It will allow them challenge themselves. It will allow them to sky rocket and grow through successes and positive outlooks. I will leave you with this quote: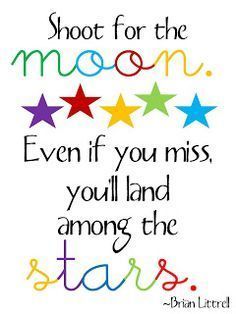 Although this has been a funky week we are still focusing our efforts on our Thanksgiving Basket Food Drive! November 11th-15th Items Needed for Turkey Dinner Baskets (Please bring the following items on the designated days) Tuesday & Wednesday: Boxed Macaroni & Cheese, Boxed Potatoes & Canned Sweet Potatoes!! **Tomorrow, 11/13, will be a REGULAR start day! Students may arrive between 8:05-8:30, classes start at 8:35! Buses will run at their regular times!*

Dear Parents & Guardians, We are glad to report road conditions have improved significantly today and school will be in session tomorrow, Wednesday, November 13th. That said, as a result of today's school closure, the scheduled late start for tomorrow will be removed and all buildings will start at regular times. Buses will run at their normal times with grades 5-12 starting school at 7:30 a.m. and grades K-4 starting school at 8:35 am. Again, all MVR-III schools will start at their regular times for Wednesday, November 13th. As we find ways to upgrade our services for parents and guardians, our current voice call notification system is using a phone number out of Little Rock, Arkansas (501-712-2633). We are working to get that number changed to a local phone number assigned to the school district. Your patience is appreciated as we continue to improve all forms of district communication. Thank you and have a great day!

MVR3 District Message: After driving the school district roads this evening, we have quite a mix of covered and uncovered roads. The covered roads are primarily ice and black ice. It is our understanding that county road crews won't be out until tomorrow morning. As always, student safety is our priority, so given current road conditions, all schools including the School Age Child Care programs will be closed, Tuesday, November 12, 2019.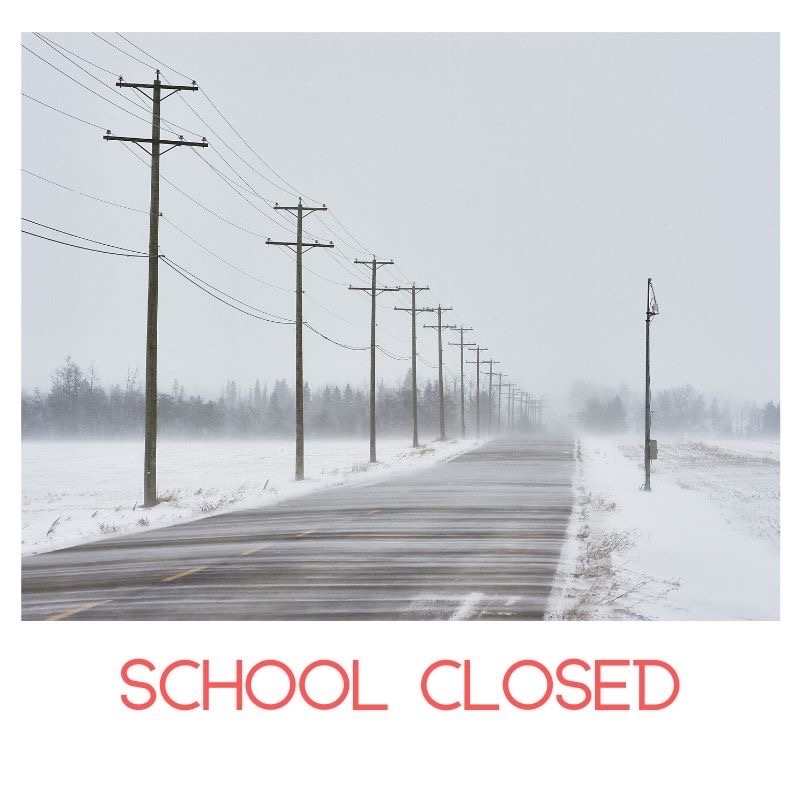 This is a message from Meramec Valley R-III School District for Monday, November 11th: We will dismiss students in grades 5-12 at 12 p.m. today, and we will dismiss elementary students at 1:10 p.m. today due to inclement weather conditions. SACC and Doris Hoffman Early Learning Center will close at 3 p.m. today. Afternoon Veterans activities have been canceled for the day.

Out and about prepping for the week today? Keep in mind we have our Thanksgiving Basket Food Drive this week! November 11th-15th Items Needed for Turkey Dinner Baskets (Please bring the following items on the designated days) Monday 11/11: Boxed Dressing, Canned Gravy and Canned Cranberries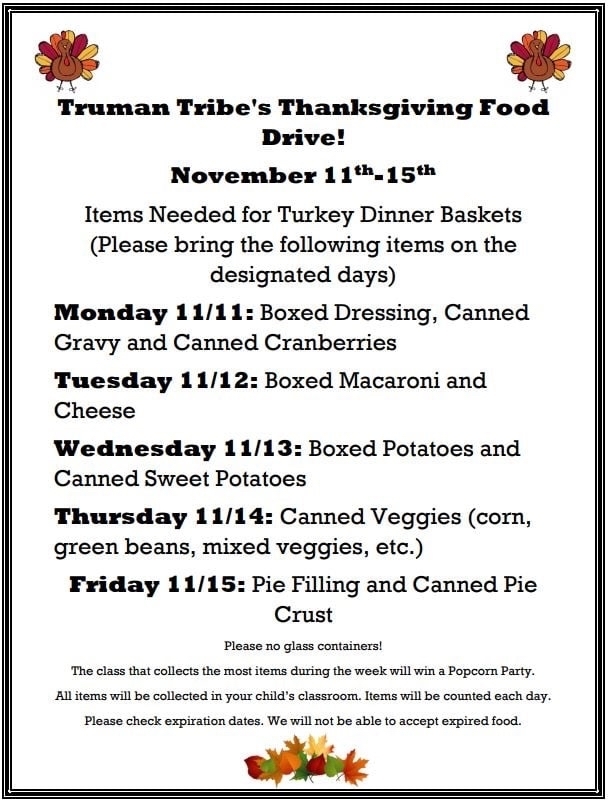 Pumpkins for ALL! Truman Elementary hit the jackpot when their partnership with long time farmer and community member Mr. Engelhardt brought sunshine into the hallways and homes of every student. In a selfless act of kindness he donated 260 pumpkins to Truman Elementary with the plan that every student goes home with a smile and an opportunity to pick out a pumpkin this fall. Mr. Engelhardt delivered two trailer loads of pumpkins and then got to come back and experience the smiles, giggles, and loads of excitement first hand. It may have been a rainy fall day but these smiles and hallways were bright and contagious! Memories were made and we are grateful for our small town.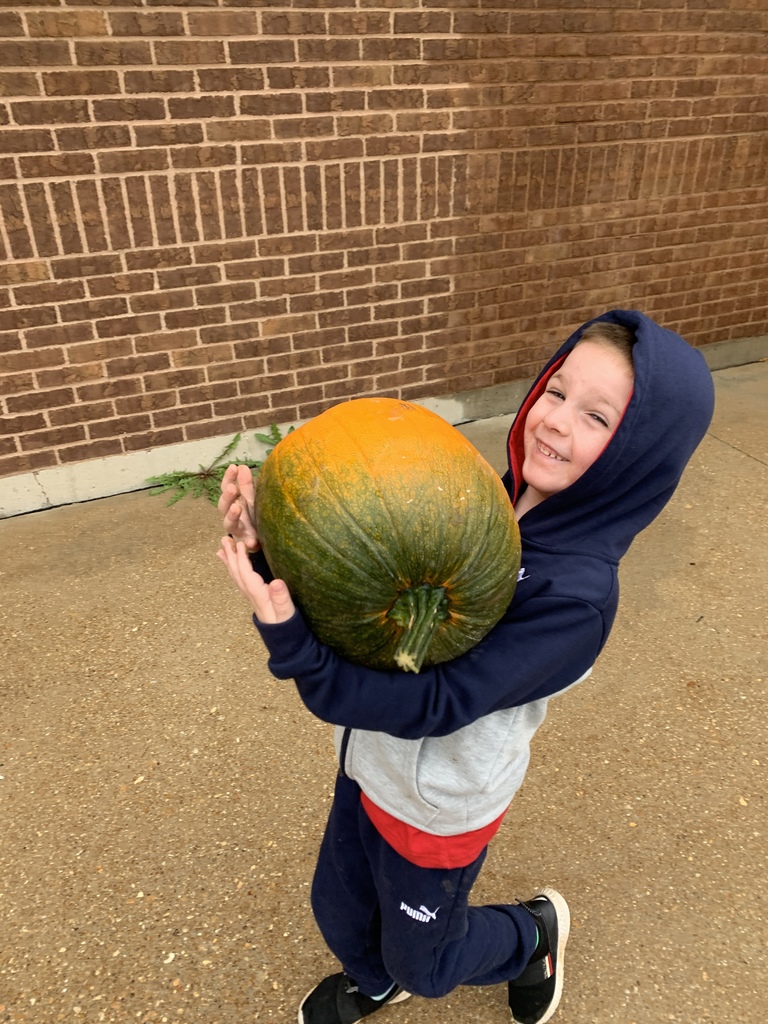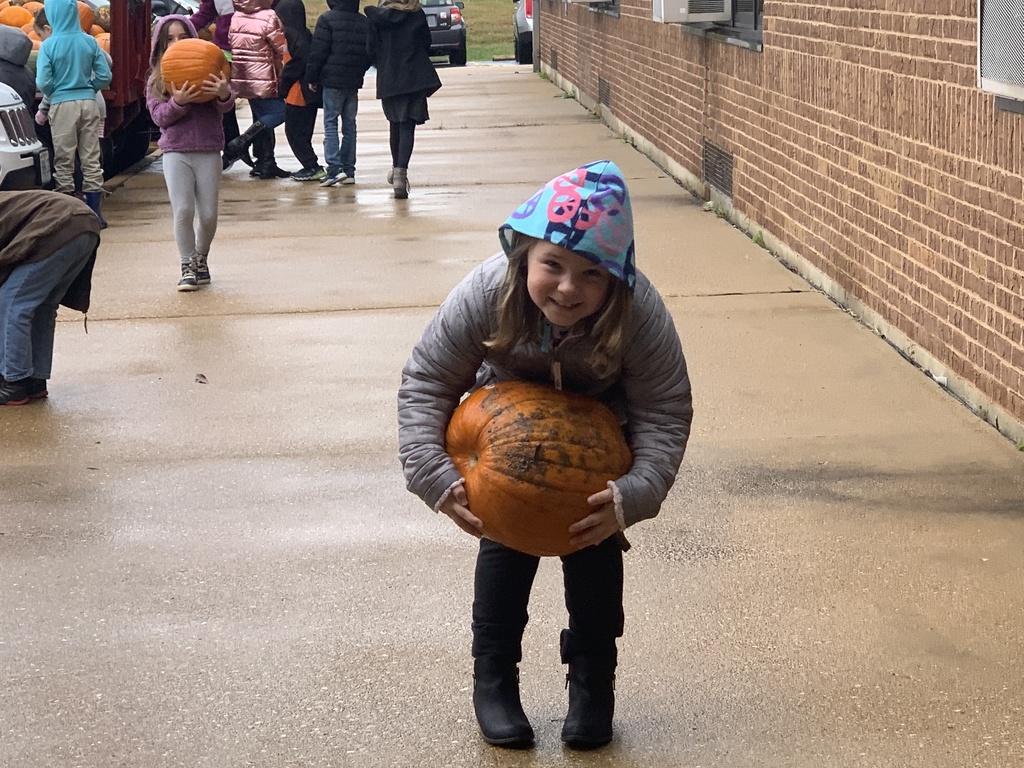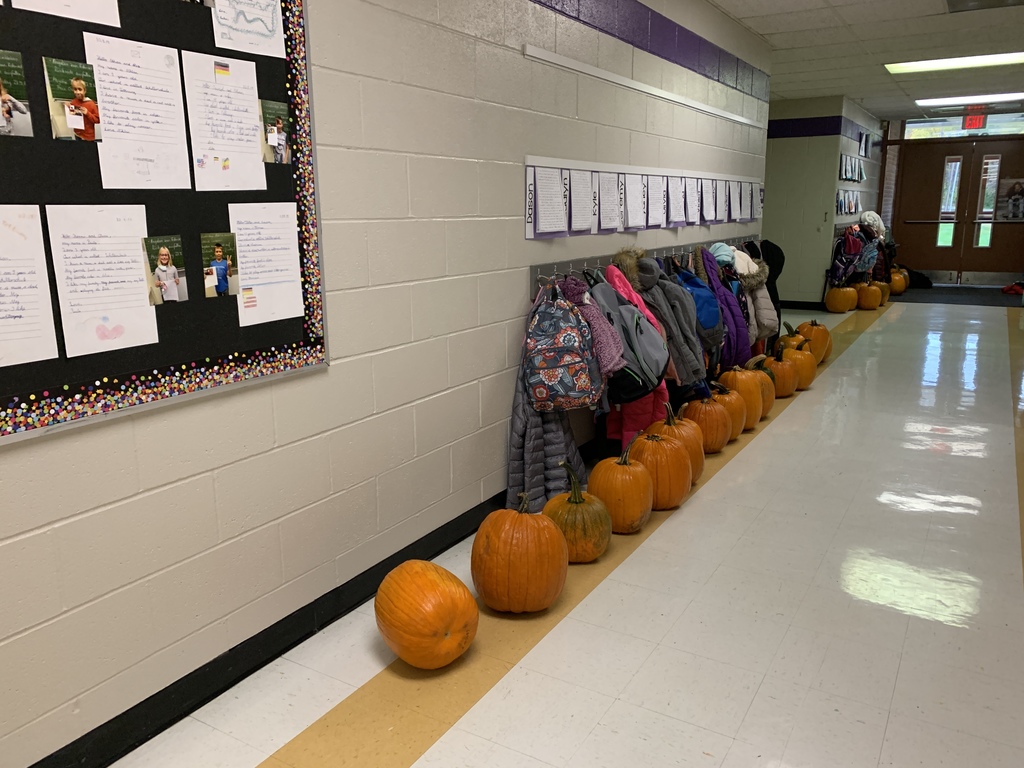 Trunk R Treat...also known as...Table R Treat - moved inside for tonight's event! We will have Mrs. Vogel reading a story aloud, two balloon guys, books to take home and 'table trick r treating' in the gym! Event is from 6:30-8:00pm. Please enter through the cafeteria doors! See you soon! #TribeLife #PTO #ShadeForThePlayground

Happy Thursday Tribe, Things to keep on your radar: Mon. 10/28 – Thurs. 10/31 Red Ribbon Week (see flyer attached) Wed. 10/30 – Trunk or Treat Event (see flyer attached) and here is the link to sign up if you want to have a trunk:
https://www.signupgenius.com/go/5080a4aa5ad2aa4f85-truman2
Thurs. 10/31 – 1st Quarter Celebration from 2:00 – 3:30pm. (see flyer attached) and here is the link to sign up if you want to volunteer your time to help at a station:
https://www.signupgenius.com/go/5080a4aa5ad2aa4f85-1stquarter
Fri. 11/1 – NO SCHOOL. SACC is OPEN if you need help with childcare that day!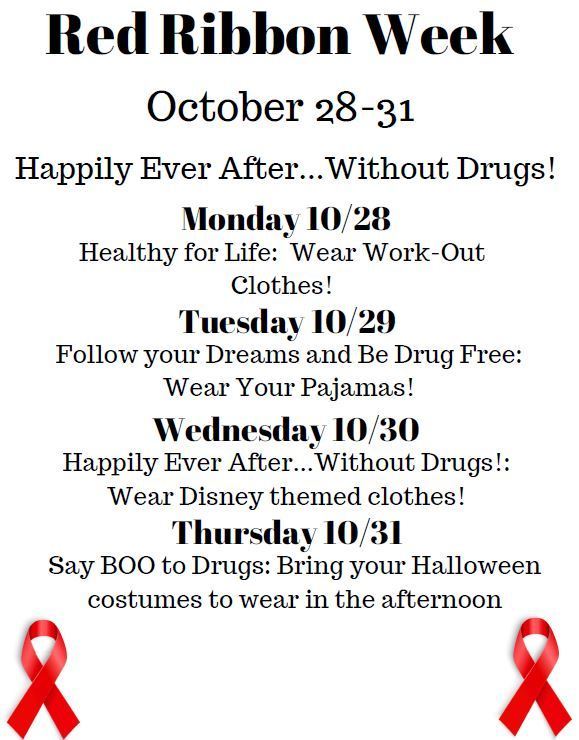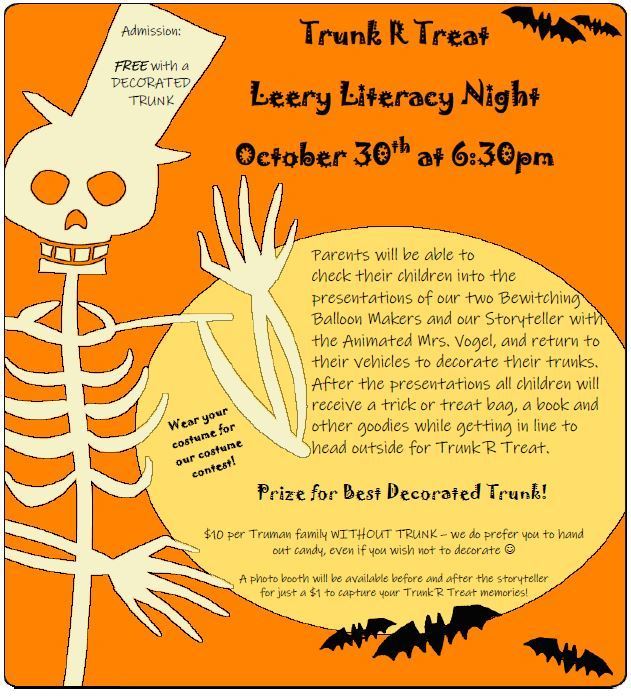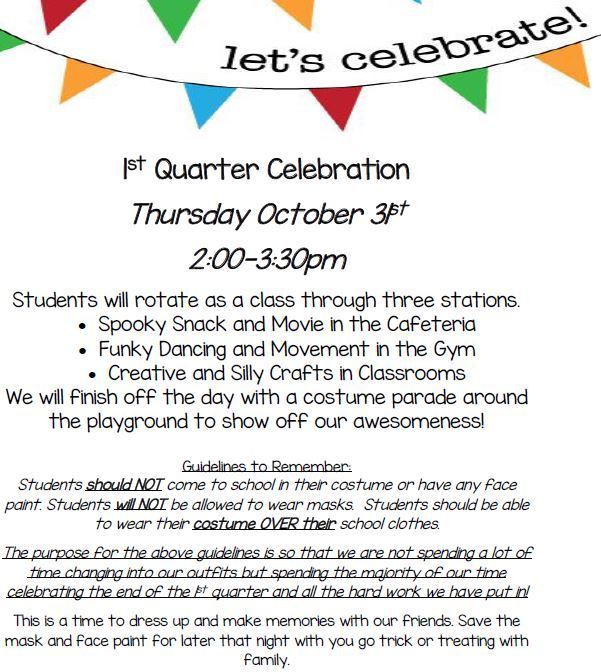 Attention Truman Tribe: Tomorrow (10/23) is Fundraiser Pick Up Day! We will organize all items by student in the cafeteria starting at 2pm. We will send what we can home with your student. For bigger orders or orders that you don't want sent home we will be available for pick up through the SACC entrance between 4-6pm! Thanks again for all the support and effort. #TribeLife #ShadeForThePlayground

This is an exciting week for our Tribe. We have a chance to pay close attention to and have good conversations around the topic of "bully prevention". Please see the flyer below - these activities are things you can talk about and participate in outside of school as well! #TribeLife #BeKind #BullyPreventionSpiritWeek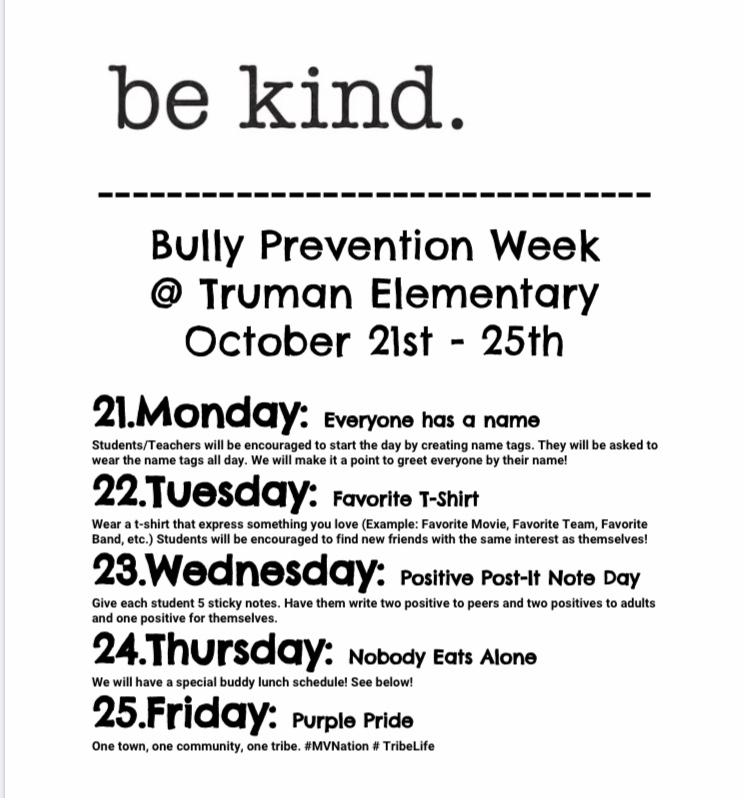 Tonight is the last night of parent teacher conferences... pick up a pizza for this busy night! We sent home green flyers and have more in the office or you can mention Truman Elementary when you pay. #TribeLife #PlaygroundShade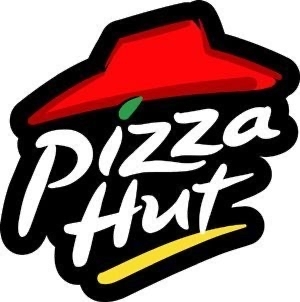 I couldn't help but share this post - we have so many amazing teachers in our Tribe! #TribeLife #MVNation #OurTeachers💜 Have you nominated your favorite teacher?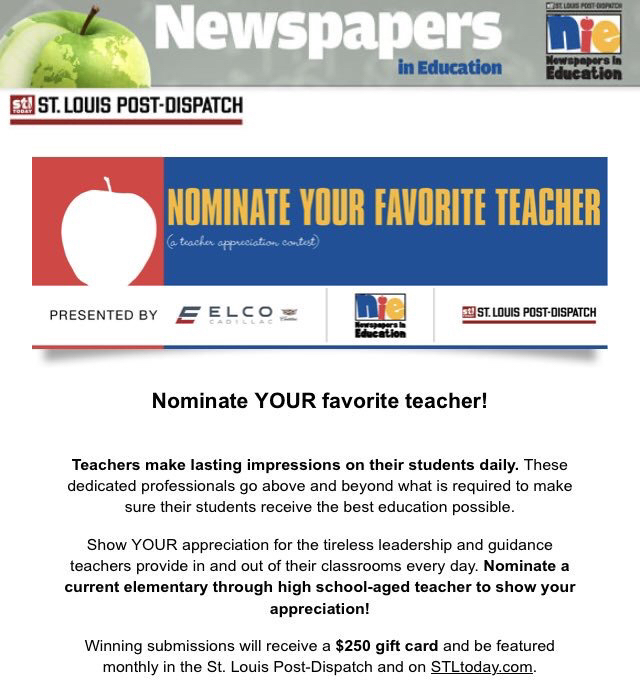 Mark the Calendar: Fall Book Fair 10/7-10/11. 10/9 Books and Bagels for All from 8:00-8:45am. 10/10 Truman Elementary Grandparent's Day 2:00-3:30pm! More information and flyers coming home this week just wanted to get these dates our ASAP as I know these are important to many families!

Tomorrow is a busy, but exciting, day for our TRIBE! ***REMEMBER tomorrow we will have a 30 minute late start and will be celebrating with #GivingWednesday! We will be accepting donations of any amount to go towards United Way! We will be accepting any CAN GOODS to donate to our local Agape House! and We will be smiling from start to finish while we spread kindness and give joy to others through our Random Acts of Kindness class projects. #MVNation #TribeLife #GivingWednesday A video for you to enjoy... Kid President - 20 Things We Should Say More Often:
https://www.youtube.com/watch?v=m5yCOSHeYn4&t=36s

CALLING ALL TRUMAN TRIBE! This Wednesday, September 11th Truman Elementary has designated as #GivingWednesday. We will take this day, mid-week, and set it aside to Spread Joy and Happiness. To choose to Be Kind and to have the courage to be contagious. We will be accepting donations of any amount to continue growing our funds and awareness towards our local United Way. We will be accepting any donations in the form of Can Goods to spread awareness to help fill the shelves of our local Agape House. AND We will be showcasing classes that will be completing Random Acts of Kindness throughout the day. We can NOT wait for #GivingWednesday to get here! Bring on the smiles! #TribeLife #MVNation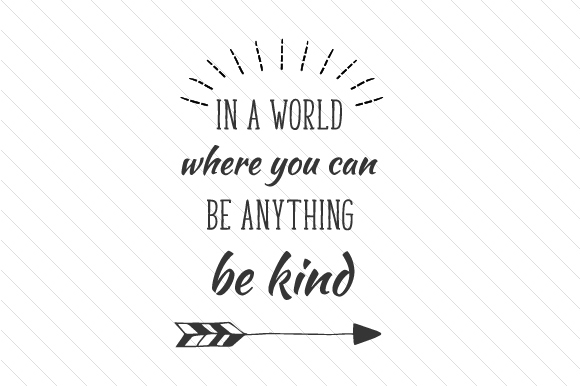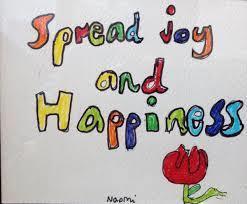 POPCORN FRI-YAY! Reminder to bring .50cents to school tomorrow to purchase a bag of popcorn. All our proceeds will go towards our United Way goal. We are 83% there... this may be the last push we need to reach our goal! #goalsetters #goalgetters #UnitedWay #ContagiousCommunity