Today is PACKET 'pick-up and drop off' Day from 8-Noon. We have books and food donations, as well as, a few supply bags also. We are here to support you 💜 #TribeLife #MVNation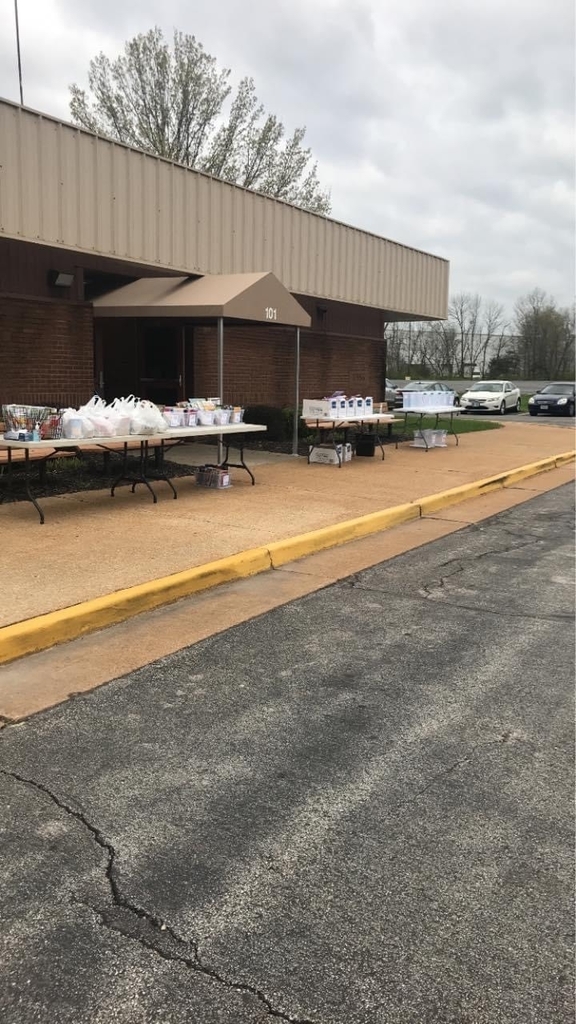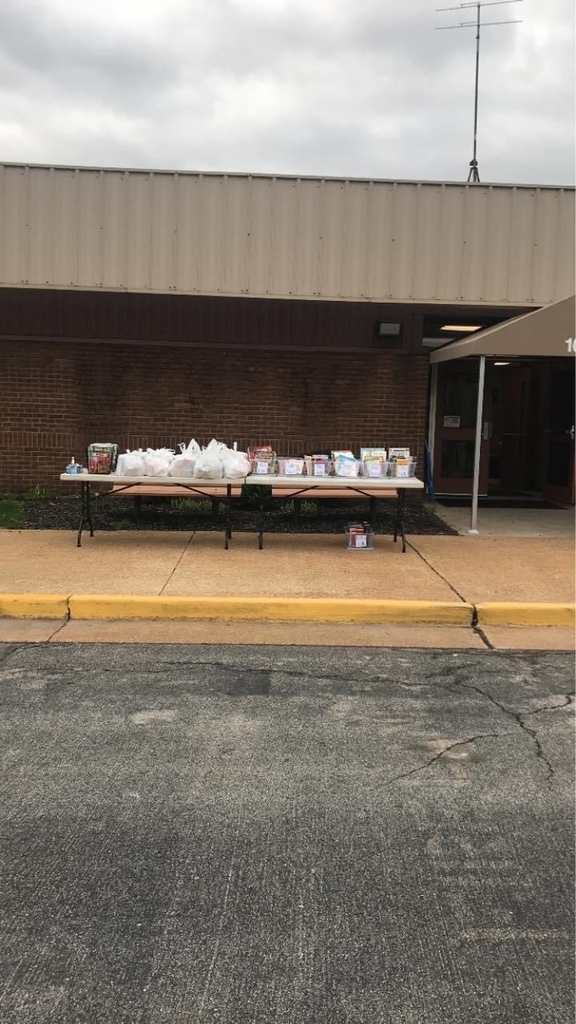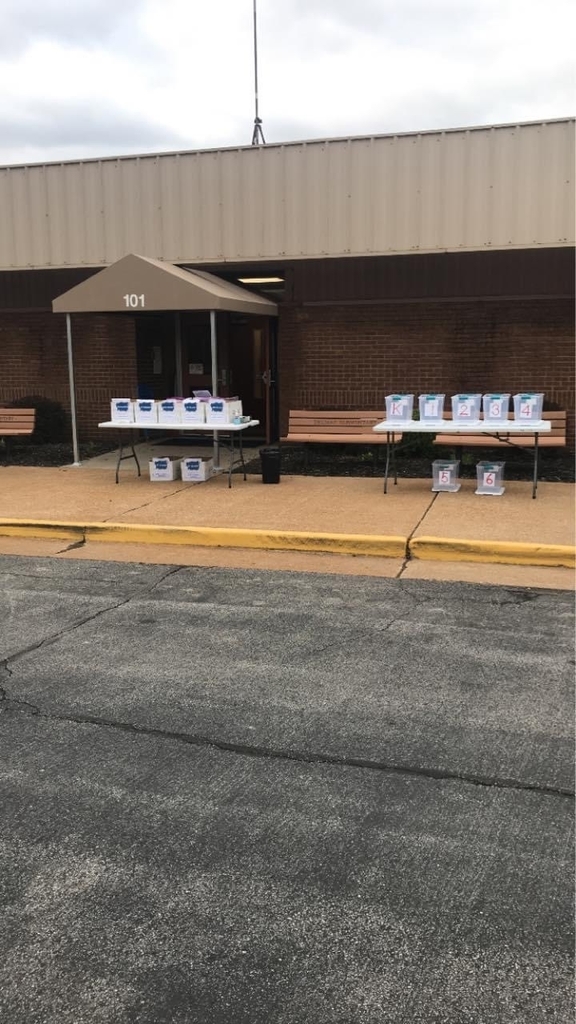 We like to keep things as routine as possible during these uneasy times. 💜 Truman Staff Virtual Fire Drill ✅ All accounted for in their safe space and a smooth check in! #TribeLife #VirtualFireDrill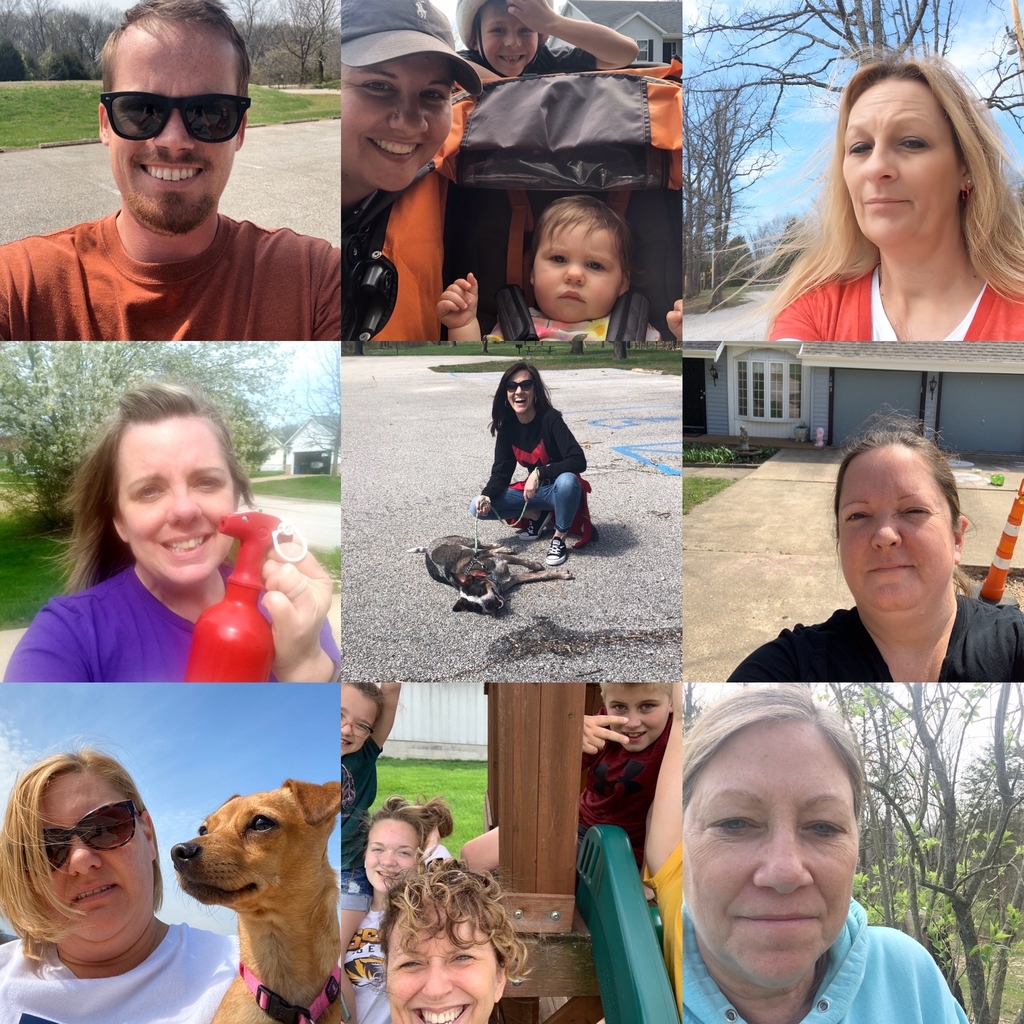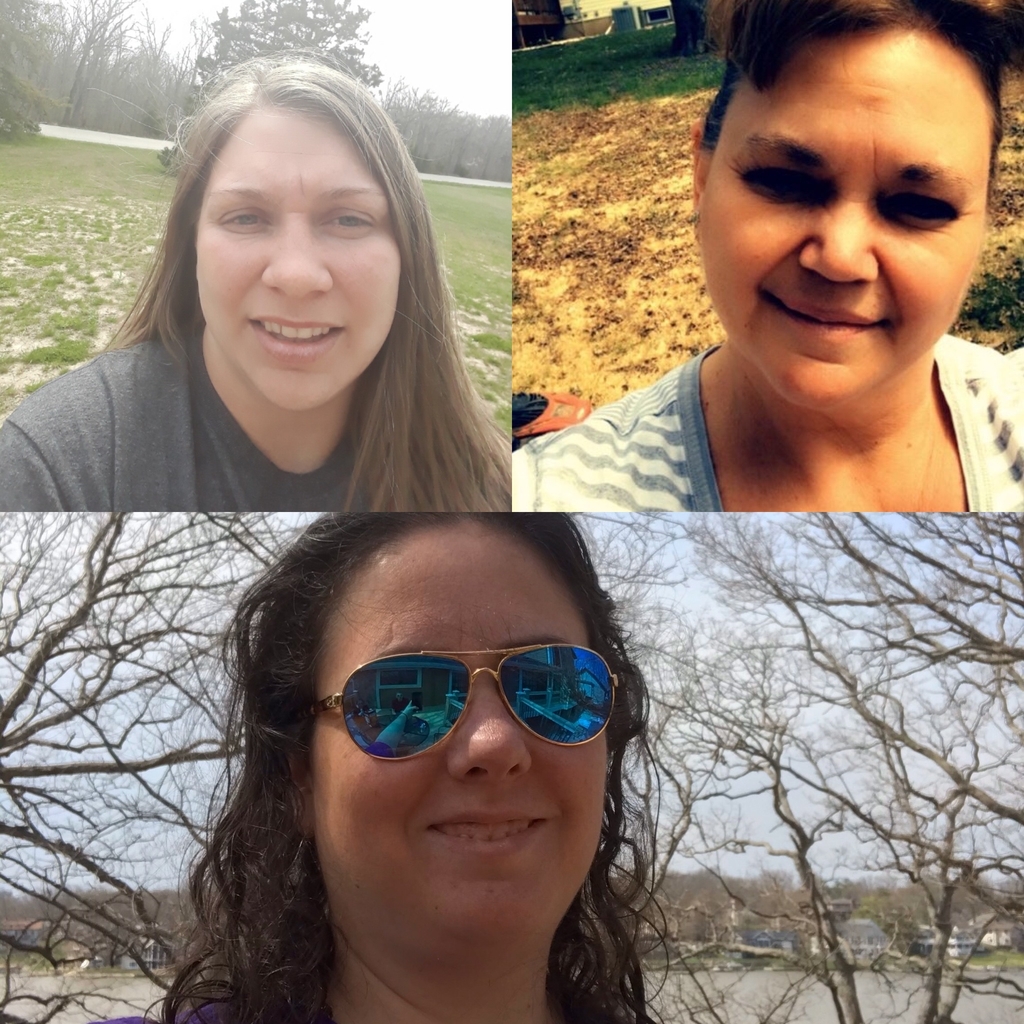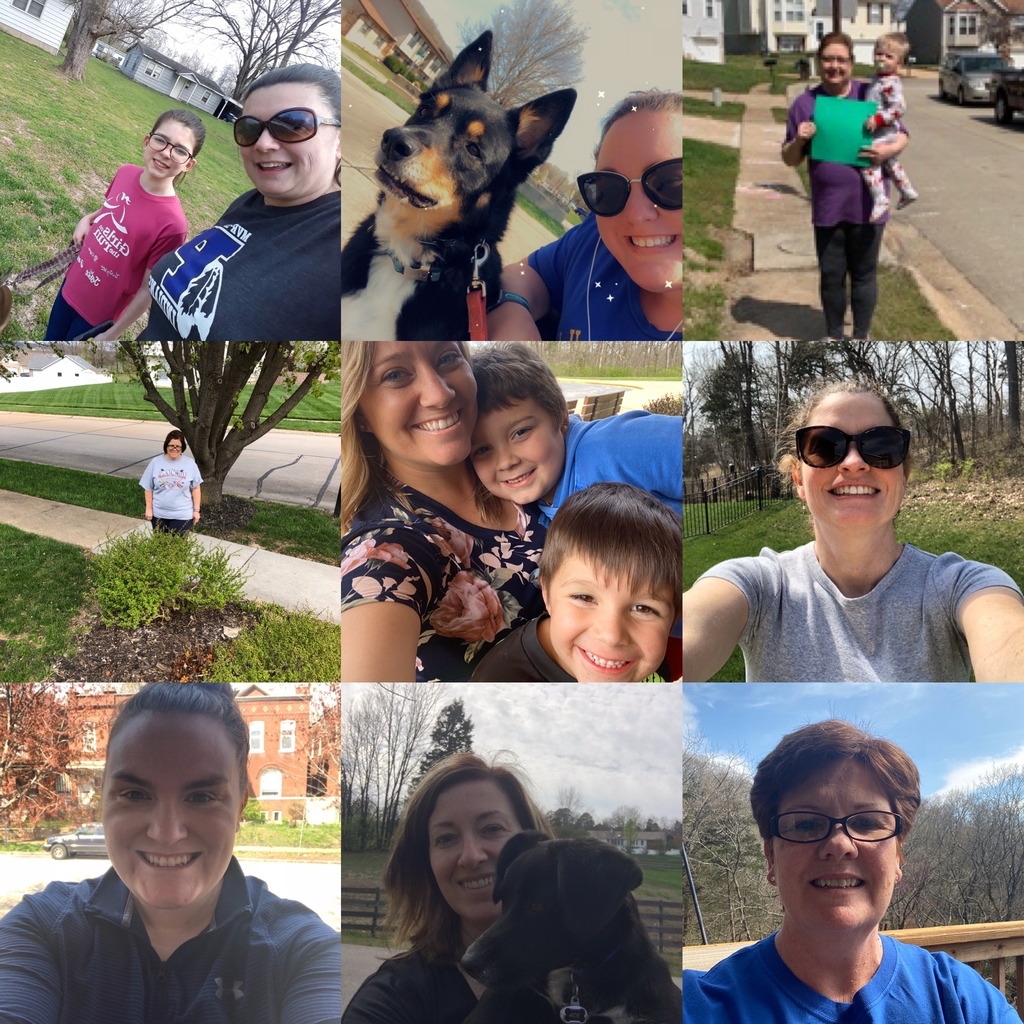 To our Truman Tribe! We want to remind you that we are half way through the week and we MISS YOU! #TribeLife 💜 Click on this link to view a video from our staff to YOU:
https://youtu.be/lFrXsqxkHUY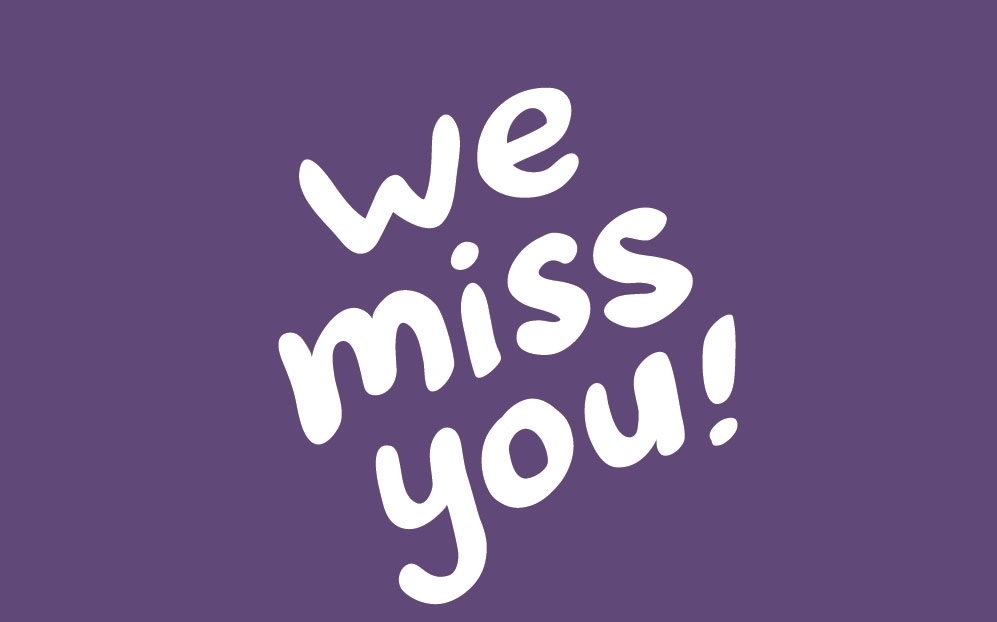 Show that #MVNation Spirit 💜 Join us for a Home-Based Spirit Week. Snap a picture each day, tag your school, and share it in the comments. We will get through this together. #MVNation Strong!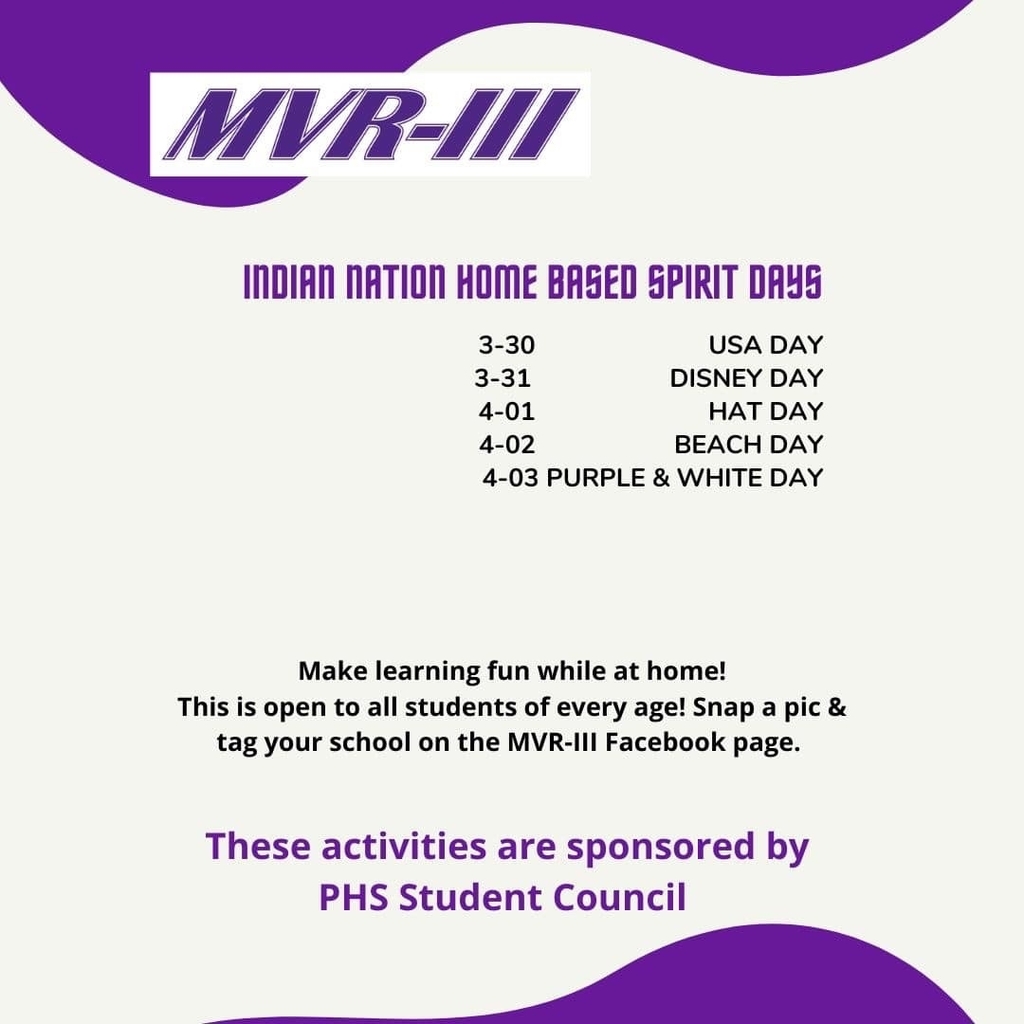 It's a Sunny Saturday morning... get outside and get some sunshine in your soul! ☀️ Let's have some fun Tribe 💜 This is a great way to get outside for some colorful fun! Chalk The Walks is all about spreading joy, optimism and inspiration through the magical power of sidewalk chalk. The idea is simple: write happy messages and pictures, have fun and spread some joy while you're at it. A great way to show appreciation to other "helpers" in our world! Please share. #BeContagious #BeYou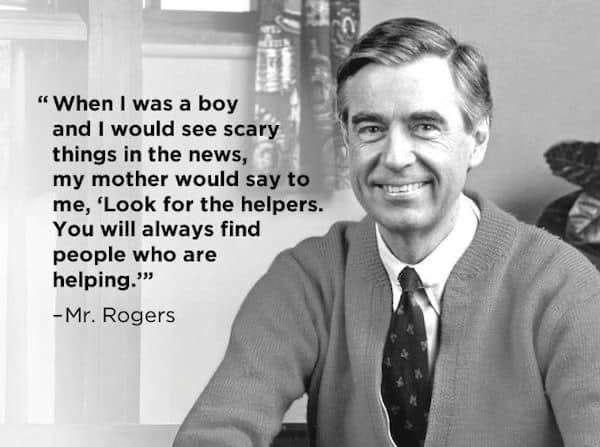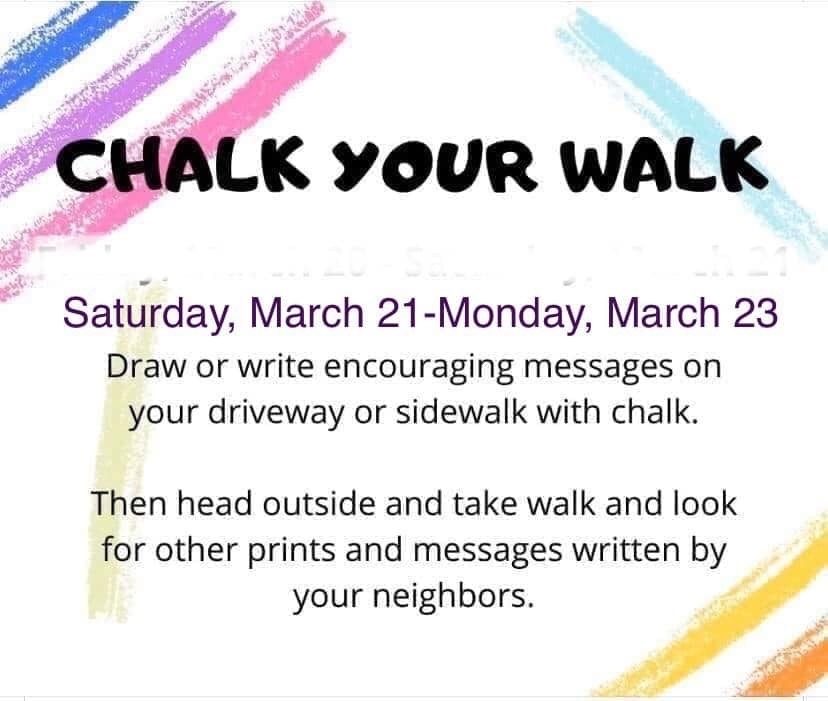 Truman Pizza Hut Night is TONIGHT! Support Local #PTownStrong #TribeLife #MVNation 💜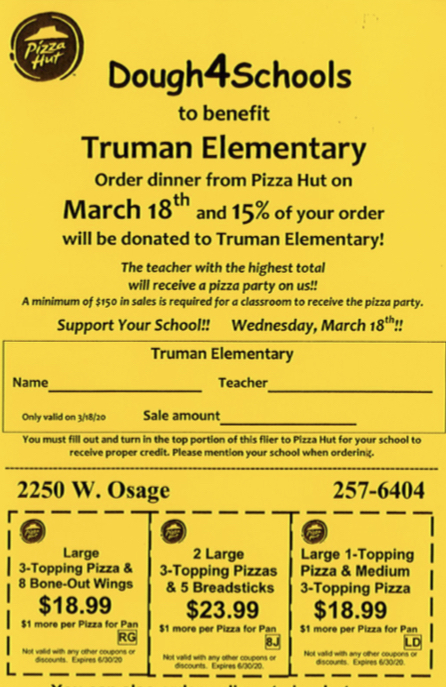 Good evening! Today, following a meeting with Franklin County school leaders, the health department, and county leaders, all Franklin County superintendents are collectively announcing an extended school closure. Since Meramec Valley is on spring break this week, the closure will begin on Monday, March 23, and will preliminarily end Friday, April 3. During this time, all school activities, including athletic and extracurricular practices and competitions, will be canceled for the duration of the school closure. A link to the full press is provided here
https://www.mvr3.k12.mo.us/article/212021?org=mvriii
. I know you will have many questions related to learning during the time of closure. District leaders will be meeting over the next few days to finalize those plans. Additional information will be sent to parents no later than Thursday of this week. It will provide details regarding learning experiences, meal availability, and general practices to help slow the spread of COVID-19. We know that closing our schools will have a significant impact on our families, but we also believe that strong, urgent action must be taken to prevent the spread of this disease and to protect lives. We thank our community for their support and partnership in this effort. Again, your patience and understanding are appreciated. John Mulford, Ed.D. Superintendent Meramec Valley R-III School District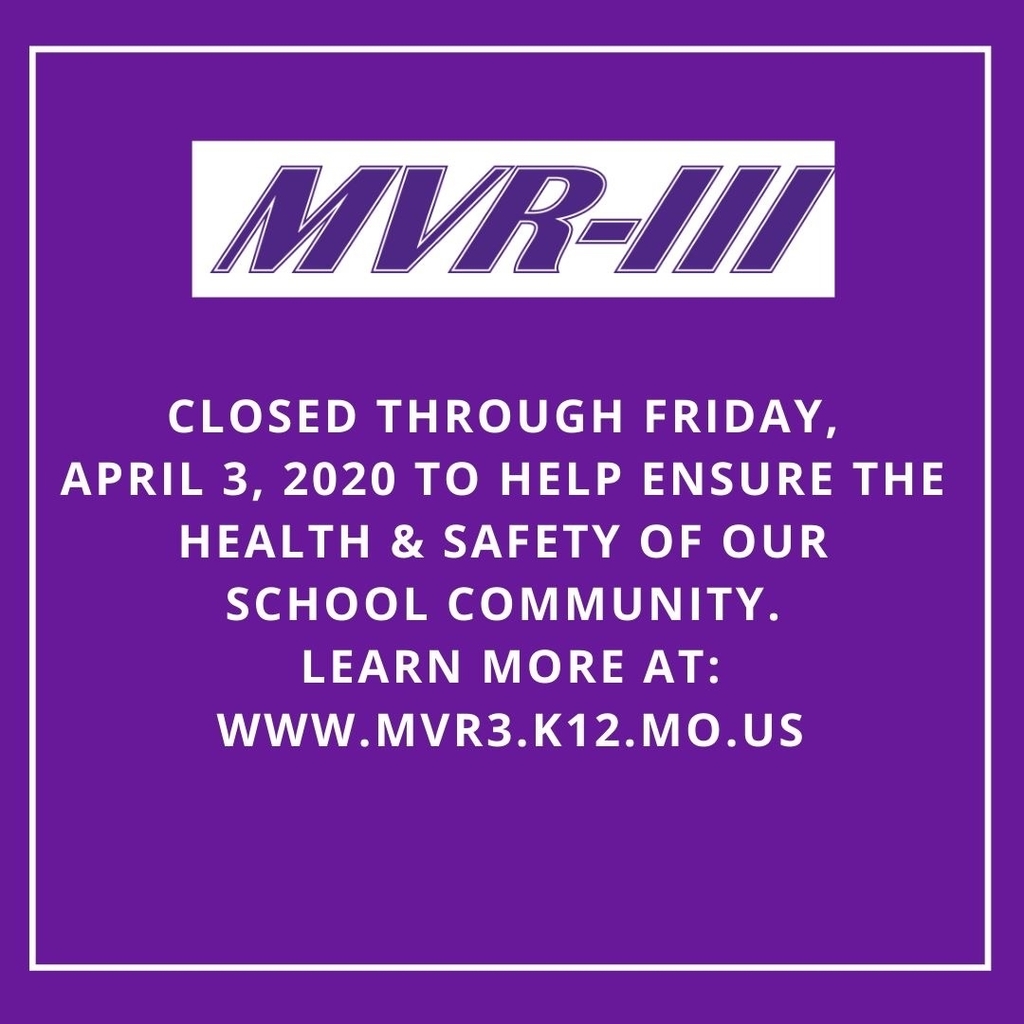 Rain rain go away! Our 3rd and 4th graders can't wait to perform tonight... Performance starts at 7:00pm at PHS! #TribeLife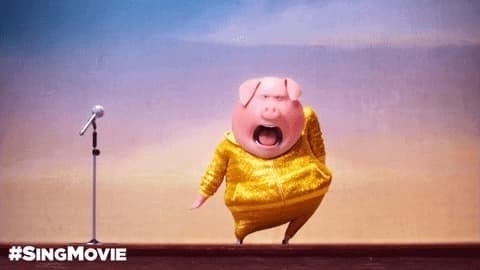 Reminders! Tomorrow is a 30 minute late start for our students. Tomorrow is also our PTO meeting at 6pm! We are starting some discussion for next year and will need support! Lastly, for 3rd and 4th Soccer Intramural students tomorrow your practice will be from 7:30-8:30am! I am excited for this busy mid-week rush! Bring it on! #TribeLife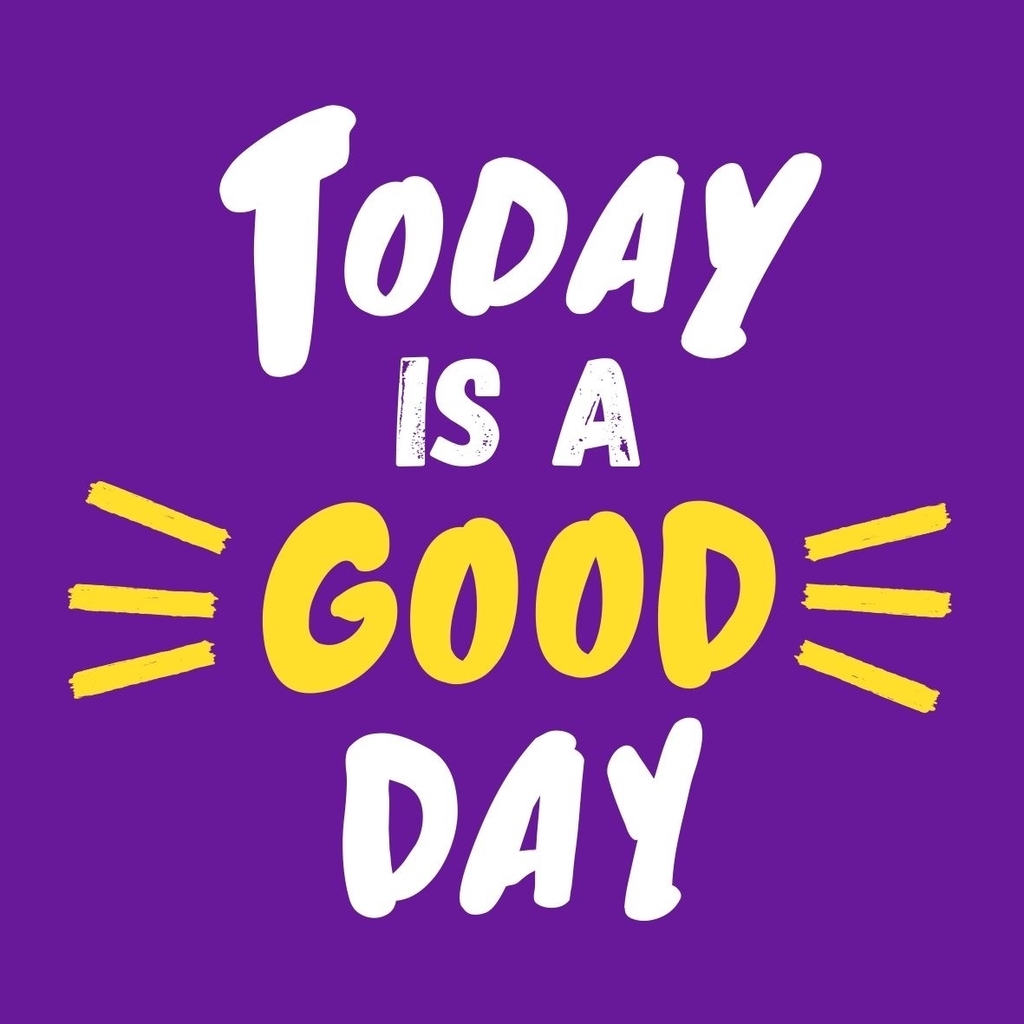 From the Desk of Dr. Sladek: Happy Friday! Come join us at 5:30pm tonight for our Writing in the Walls event! Every student has a writing piece to showcase 💜 Stay after our event and join our PTO Game Night starting at 6:30pm! #TribeLife A full night of fun is ahead of us! See you soon.

Bagels and Books for All event is this morning! Our doors will open at 7:30am and we will have breakfast for students and bagels, coffee, and juice for our guests! Can't wait to see all the smiling faces so early in the morning 💜 #TribeLife #MVNation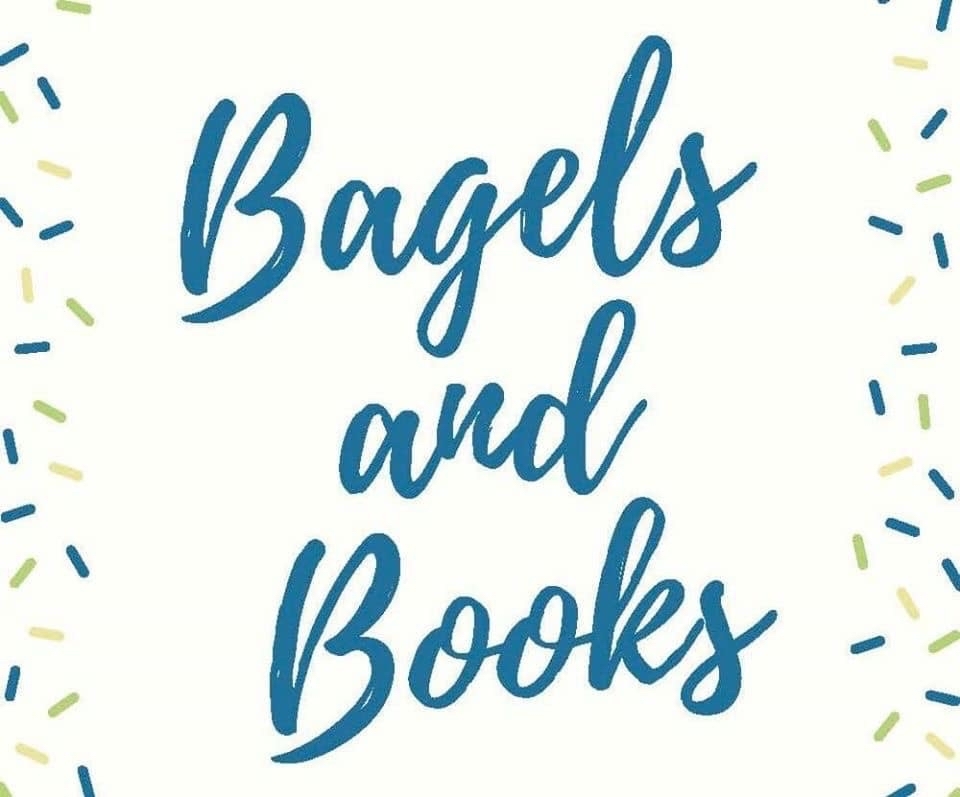 All schools & programs in the Meramec Valley R-III School District will be closed on Friday, January 24th due to inclement weather.

MVR3 Staff plan to have a little fun with a 12 Days of Christmas theme so we thought it would be even more fun with a Student Edition! Starting tomorrow with the theme; Baby It's Cold Outside - wear a scarf! #TribeLife #MVNation #12DaysofChristmasFun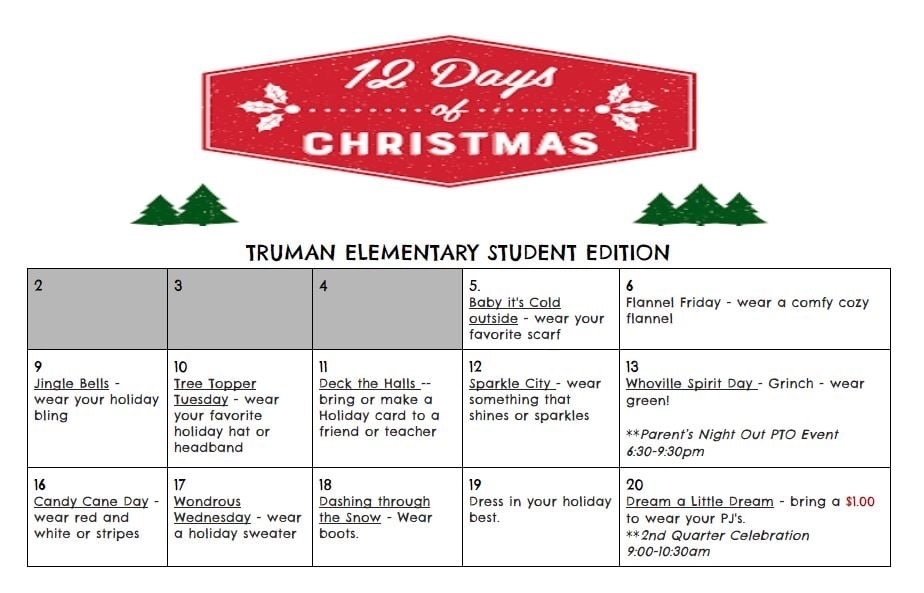 Our SACC program is awesome! Stay informed and sign up... we are happy to be able to help support your family in whatever way possible! Guest readers, Pound Class, and hanging with friends makes for some great memories. 💜 #TribeSACC #TribeLife #SignUpNow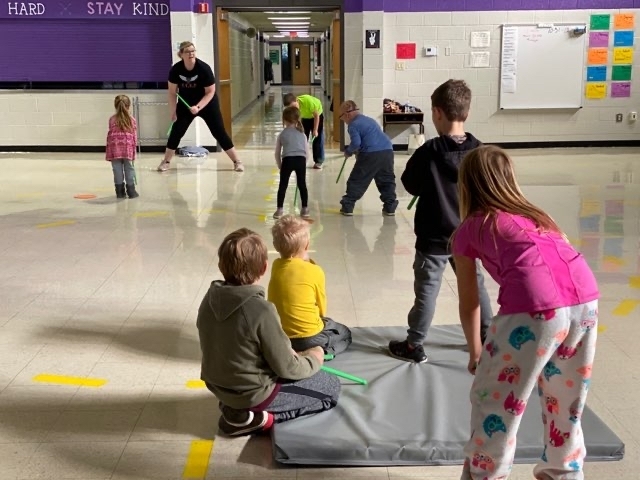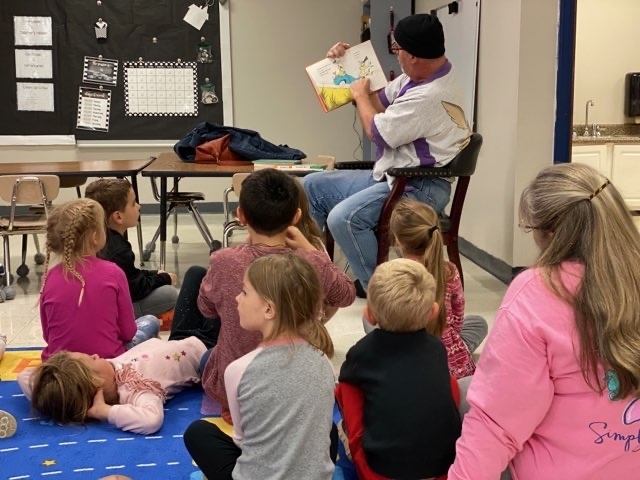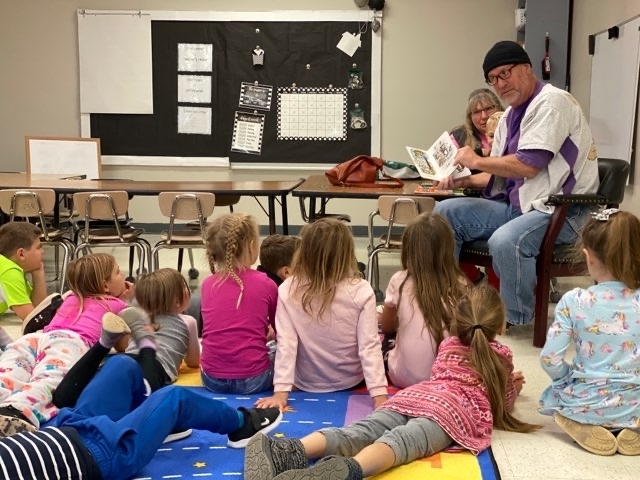 Reminder of our deal... you sell gift cards for Texas Roadhouse and I make catch up post about awesome things happening at TE! Below are pictures of the amazing staff at Texas Roadhouse checking in on us to see how sales are going! #TrumanPTO #TribeLife #Shade4OurPlayground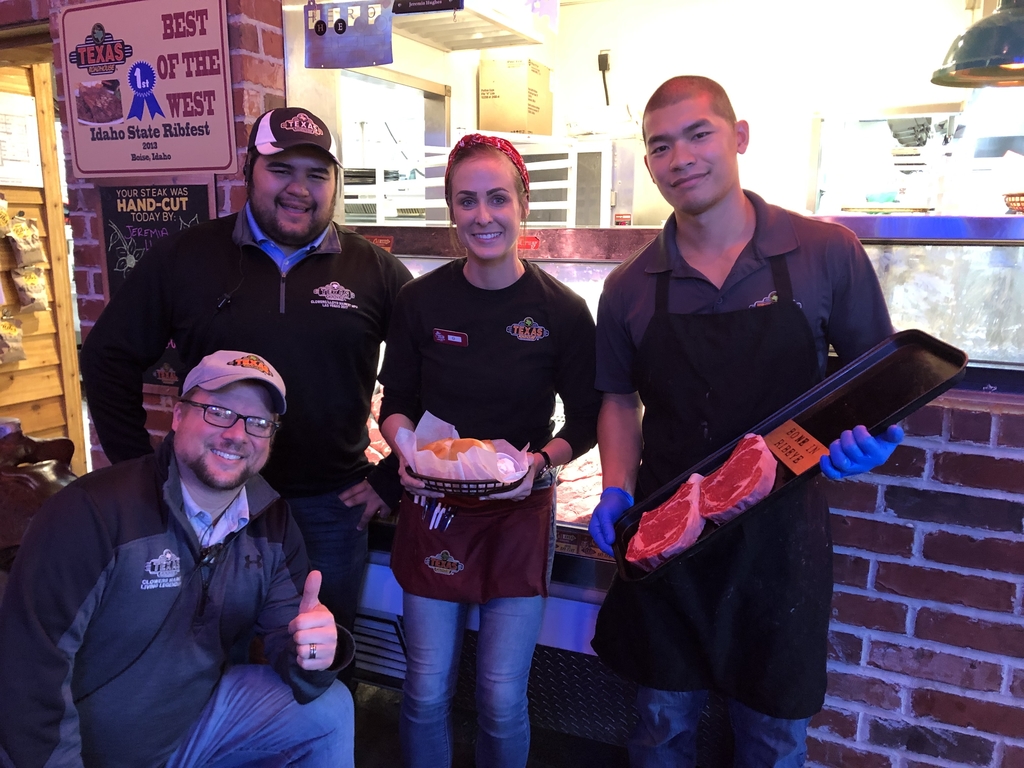 Truman Elementary celebrated #ThankfulThursday today! We hope you know how much it means to us for YOU to be a part of our Tribe 💜 #TribeLife #MVNation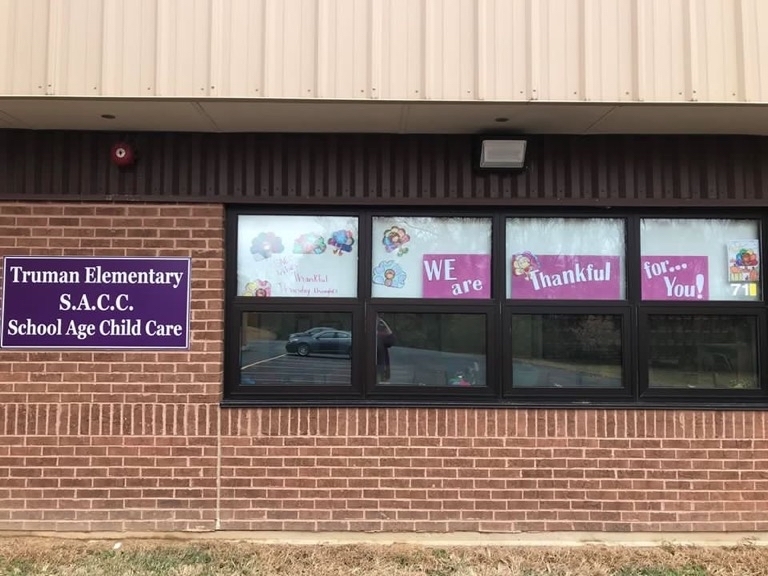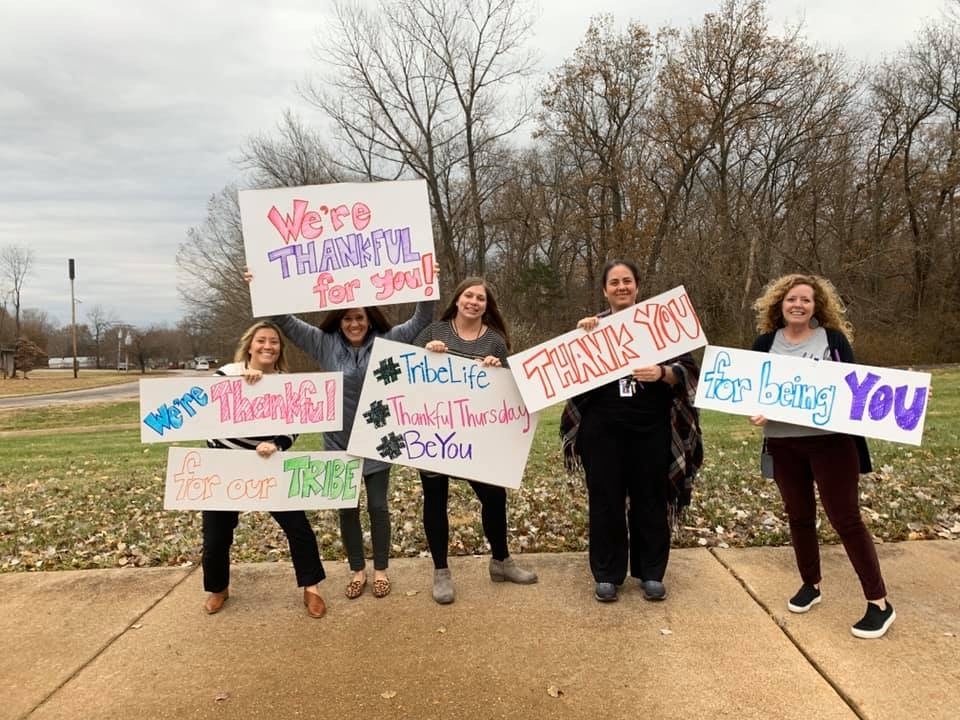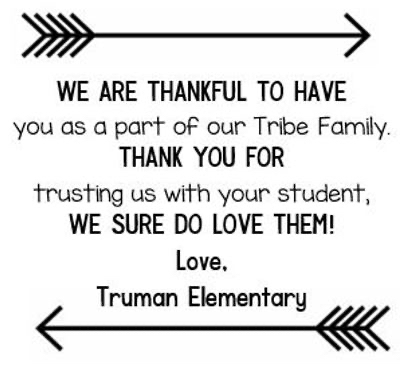 Happy Thursday! We will NOT have school next week 11/25-11/29. School resumes on 12/2. PTO is working hard and doing GREAT things! Truman Spirit Store - Here is the flyer:
https://5il.co/bhw5
The store is open NOW and will close on 12/2! Here is the link to the Spirit Store directly:
https://store.kickprint.com/TrumanTribe/shop/home
*****All sale profits will go towards #Shade4OurPlayground Texas Roadhouse Gift Card Sales - Here is the flyer:
https://5il.co/bhy6
Gift card sales are open NOW and will close on 12/2! Some clarification about the Texas Roadhouse gift card fundraiser. Students will not get the cards right away. If they are done selling they can return their folder to school any time, but we hope students can use the break and family time to sell more cards before they are ready to return! Texas Roadhouse will make our cards with the Truman logo on them – so they will not be sent home until the week of Dec. 16th. The week of Dec. 2nd we will be around and give every student that sold a card a gift bag from Texas Roadhouse with a red letter attached with directions for parents to return giving us information on how they want the cards to go home. (With the child or will they pick up at SACC)! Variety Show Auditions & Show Date - Here is the flyer:
https://5il.co/bhy7
This is year the show is in APRIL! This is different than what you are use to but we are excited for a spring show! See the flyer for more information! Supporting our community #MVNation: Christmas Tree Flyer -
https://5il.co/bhy5
Christmas on the Plaza Flyer -
https://5il.co/bhyd
Last, but NOT LEAST, #ThankfulThursday: Sometimes it is nice to take a deep breathe and think of all the positives that are surrounding us. We wanted to extend our gratitude to our Tribe. We passed out notes at dismissal for all of you to receive, if you did not, we want you to know "WE ARE THANKFUL TO HAVE you as a part of our Tribe Family. THANK YOU FOR trusting us with your student, WE SURE DO LOVE THEM! Love, Truman Elementary!"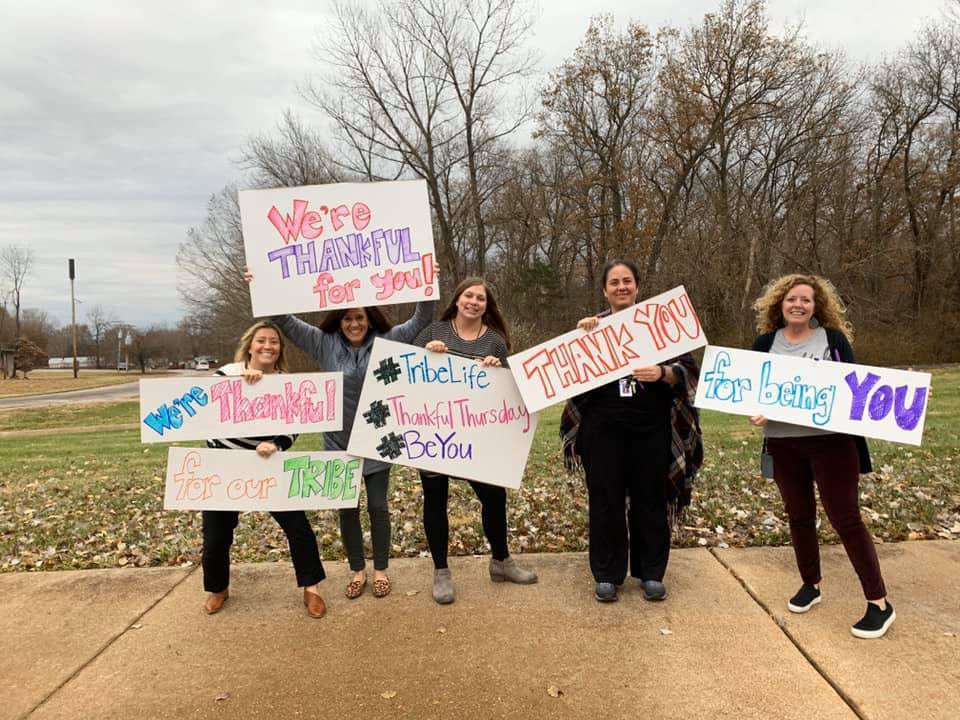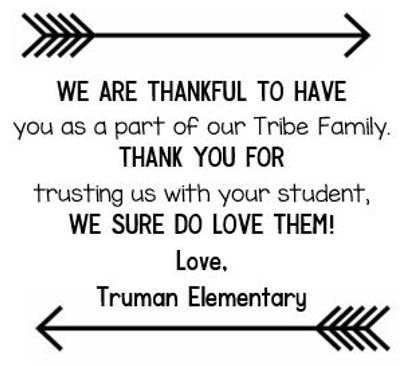 Finish this week strong with our Thanksgiving Basket Drive! Friday: canned pie filling and pie crust. ***We could use more boxes potatoes and gravy! Something to celebrate while we are focusing on giving this week. Truman Ambassadors filled the back of the Agape House Van with canned goods that we have collected over the past couple months and on #GivingWednesday! I am so proud of their smiles, leadership, and giving hearts 💜 #TribeLife #MVNation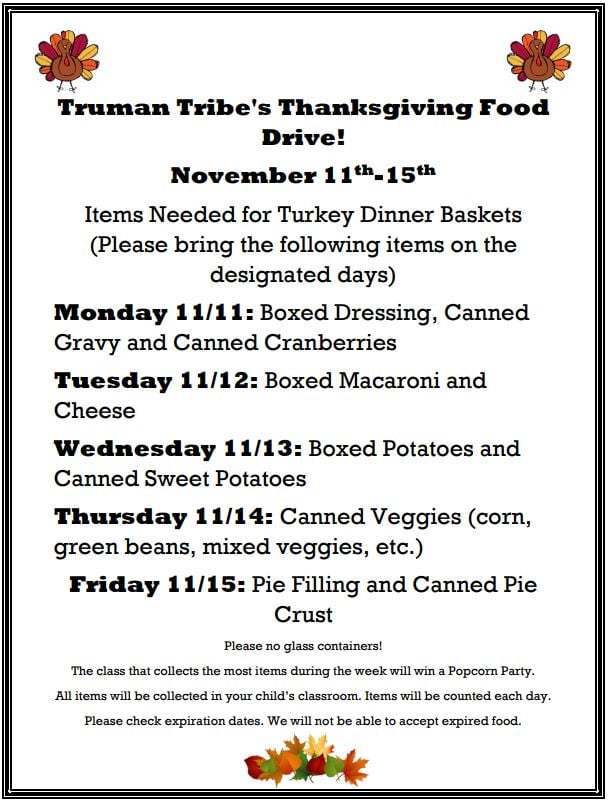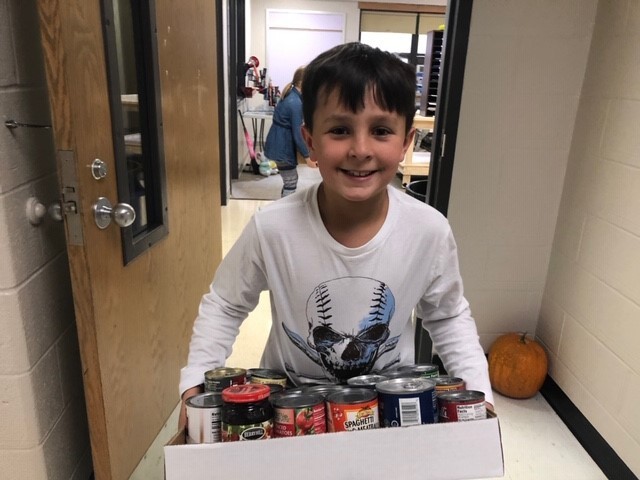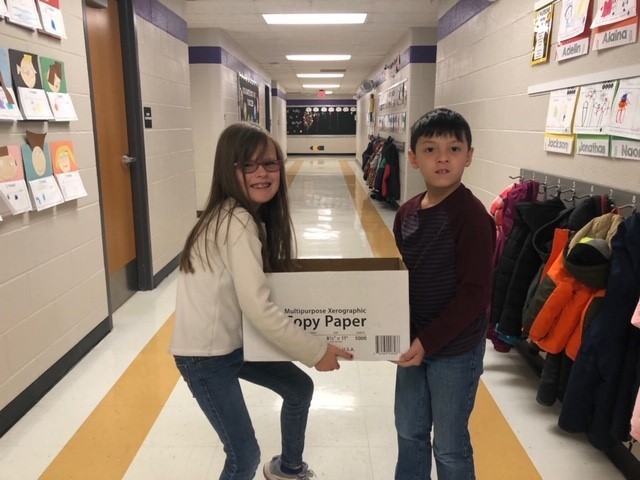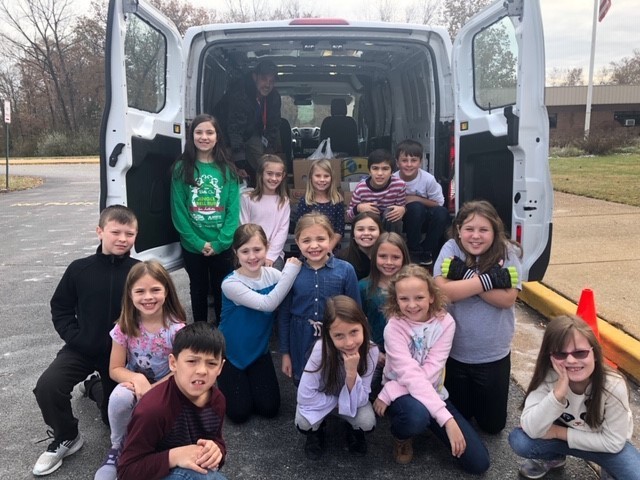 It has been a crazy week with weather but we have worked through it and are excited for the weekend! We are finishing up our Thanksgiving Drive - see this flyer to bring in any last minute items: Thanksgiving Drive Flyer Next Wednesday we have another Pizza Hut Night Out (these flyers will come home on Monday!) but are also attached. Progress reports will be sent out next Friday 11/22! Also next week is our last full week and then we will have a full week for Fall Break. There is NO SCHOOL 11/25-11/29. PTO - Texas Roadhouse Gift Card Fundraiser was sent home and is open for selling NOW through 12/2. See attached. ***This one is just to put on your radar but know that you still have plenty of time and more reminders will go out in future weeks = Variety Show Auditions! See attached. ast, I just want to leave you with an 'ah-ha' moment that I had this week...it dawned on me multiple times throughout the week the importance both in young and mature minds how critical it is to have a Growth Mindset. Not only is it important to have but more important to teach, model, and practice on a daily basis. I have attached a little info-graphic explaining the main ideas of having a growth mindset. I would encourage you to look more into it more on your own if your are curious! The thought of encouraging and supporting our students self-confidence will be so contagious among our building! It will allow them to interact with more self assurance. It will allow them to encourage others. It will allow them to smile more. It will allow them challenge themselves. It will allow them to sky rocket and grow through successes and positive outlooks. I will leave you with this quote: