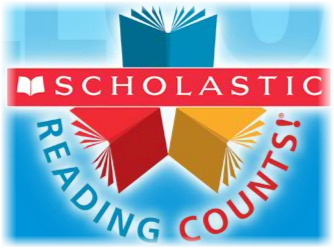 The primary function of an accelerated reading program is to provide a computerized learning information system that helps to manage, motivate and assess student reading of self-selected books. Reading Counts provides a means of motivating every student to increase reading practice. Reading practice is essential to the development of critical thinking and problem solving skills that ensure a lifelong love of reading.
We have purchased hundreds of quizzes to go with our library books. The books with RC quizzes are recognized by a colored sticker on the spine. Many of the books also have a white sticker on the inside cover of the book that lists title, author, book level and point value.
Many of our teachers administer the SRI (Scholastic Reading Inventory), a computerized reading test that assures us the student will be successful in reading his or her books independently. Reading Counts helps students focus on what they read, which improves their critical-thinking skills. Using Reading Counts, students can find books that are appropriate, and within their range of reading development. Because of this, students will be challenged, but not frustrated.
Students move to longer, harder books through a motivational reward system that encourages increased sophistication at each level. Our school promotes a reading environment where students are constantly aware of the emphasis placed on reading.
Can non-readers participate? YES! Teachers, volunteers, and parents can read books to the children. The next day students can take a quiz.
Reading Practice Helps Students Read Well And Become Well Read!
Reading Counts! ~ Just One of Robertsville's Riches!