Happy Monday, I wanted to communicate out and reach out one more time in hopes that every one is aware of the MVR3 Homecoming Week fun! Homecoming activities will be in full swing starting tomorrow, Tuesday, October 12th. Activities will include spirit week starting Tuesday through Friday, Powderpuff & Tailgate at the Pacific High School Stadium on Wednesday, Homecoming Football Game on Friday, and finish with the Homecoming Dance on Saturday. MVR-III School District Spirit Week- A Night in Hollywood Tuesday- Surfs Up! Wear Hawaiian. Wednesday- Pink Panther. Wear Pink. Thursday- The Blindside. Wear jerseys/sports gear. Friday- Harry Potter. Wear house colors- purple and white. Homecoming Football Game Pacific vs. Hermann at 7pm Tips for an Indian Football Game Tip #1: Children ages 1 up to 4th grade should remain with their parents. Tip #2: Students in grades 5 through 8, should remain in the student section to watch the game or sit with parents. Tip #3: Students ages 5 up to 12 should be accompanied by an adult. This does not include a high school age sibling. Tip #4: Be mindful of other fans. When you take your kids to football games, please be mindful of other fans around you. Not only do you not want your kids to bother others, but you don't want to expose your kids to the bad behaviors of others. Tip #5: Teach kids to love the game and their team. Wear the school colors and spend time cheering for the Indians. Tip #6: Enjoy snacks at the concession stand. Tip #7: Use the waste cans to dispose of trash. If there are any questions or concerns please let me know. Leading & Learning with a smile, Dr. Jenna Sladek; Ed.D Principal, Truman Elementary M:(636)346-6156

From the Desk of Dr. Sladek: Good Morning Truman Tribe! Please note the flyer attached as Homecoming Spirit Week continues with themed days this coming Tuesday-Friday. ⚠️❗️Also, REMINDER that we have NO SCHOOL tomorrow, Monday, October 11th ❗️⚠️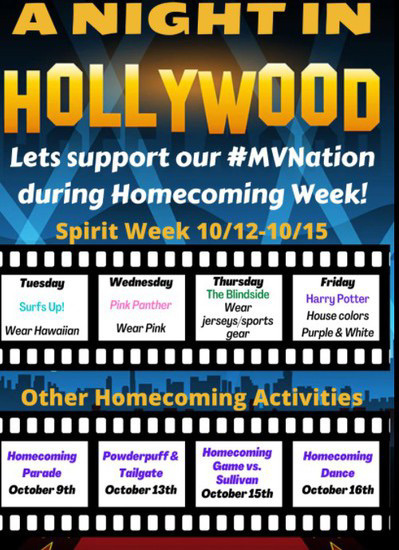 Tomorrow is the PHS homecoming parade. Please see the above flyer. Some quick information to remember - ▪️A parent MUST walk with their student. ▪️Dress attire is "fancy" (with good walking shoes) or wear a Truman tribe shirt. ▪️Parking. Try the Hardee's parking lot or park along the parade route. ▪️Meet our float by Doris Hoffman BY 9:15am. ▪️Bring your own candy to throw out during the parade.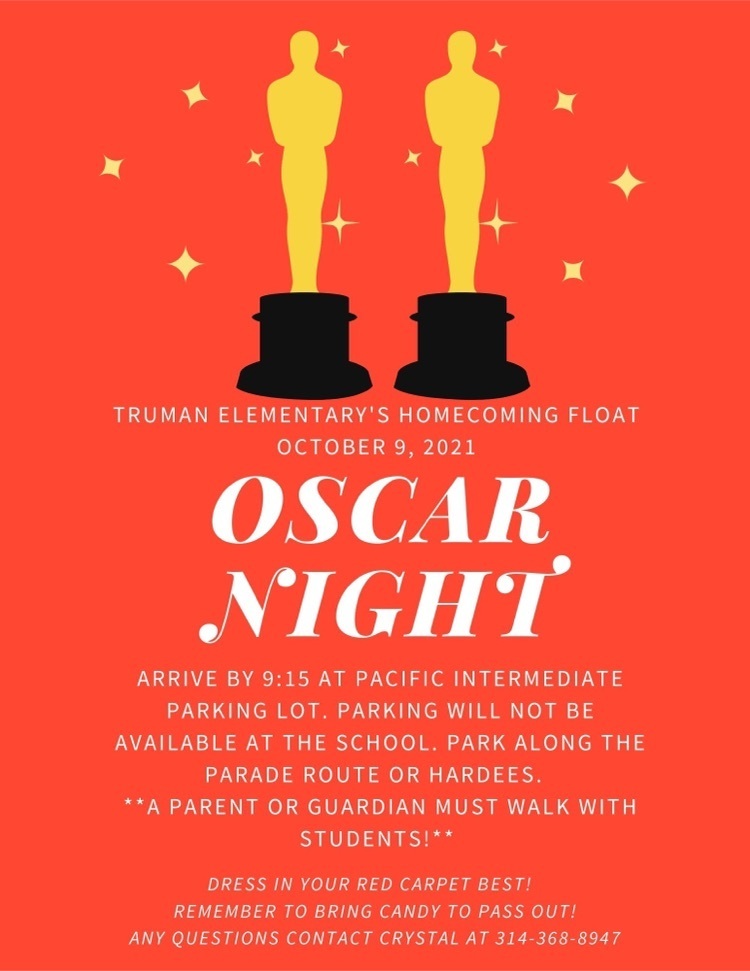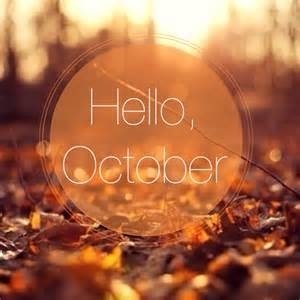 From the Desk of Dr. Sladek: You've all been AMAZING at helping your school. Today we are announcing the Pledges for PJs Challenge. This challenge is for you to get 1 PLEDGE or DONATION of any size, big or small, TONIGHT to help your school! Any student who gets ONE pledge TONIGHT will get to wear PAJAMAS to school tomorrow. AND… Let's keep thinking about NEW people who could help our school — your grandparents, aunts and uncles, family friends, neighbors, even local businesses! YOU CAN DO IT! Have a great day!

TOMORROW we officially kickoff our Truman Tribe's Dance-Fit Fun fundraiser! Our goal is to raise $4,300 for Student Activities. Tonight please . . . ⭐️ REGISTER your student on MYBOOSTER.COM. ⭐️ SHARE with friends and family using the SHARE BUTTON. ⭐️ GIVE if you are able to.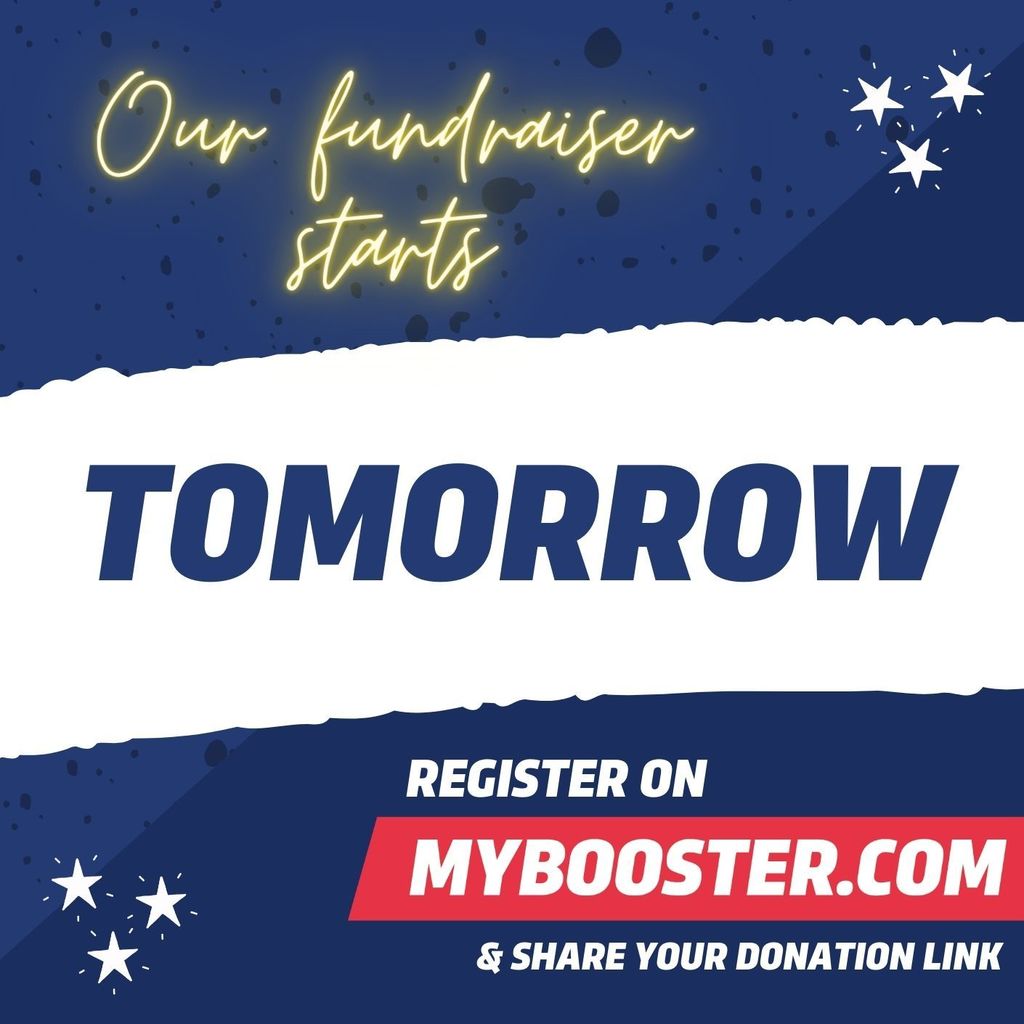 Donating is officially open today! SHARING IS SUPPORTING our fundraiser. It's extremely easy on mybooster.com and takes 30 secs. Register your student, then click the SHARE BUTTON. Your student will receive rewards just for you sharing. It's a win-win! Parents, have you done this yet? One fun way to SHARE about our fundraiser is with the Student Star Video on MYBOOSTER.COM. Just upload a picture of YOUR student and PRESTO! They'll be the STAR of their very own video to help our school! Share it with friends and extended family online—it's guaranteed to get some ❤️!

The purpose of this message is to inform you that MVR-III was notified today of an additional student who tested positive for COVID-19 at Truman Elementary. All individuals who are considered a close contact, have been directly notified by a school representative. Any staff member that had this student in class or activities was notified directly by an administrator. Because of school and health requirements, the name of the individuals cannot be shared. In consultation with our district administration, we are updating our masking requirements to Yellow Status starting on Tuesday, September 14, 2021 and will continue through Friday, September, 17th 2021. This is a precaution to help prevent further spread and keep all students and staff safe. Please send your child to school with a mask on Tuesday, September 14th. The school will have masks available for any student that may need one. Yellow Status Masking Requirements: All students in the building will be required to wear a face mask on the school campus with the following exceptions: -When eating during breakfast and lunch -When outside -When physically exerting themselves during PE -Other situational exceptions may be allowed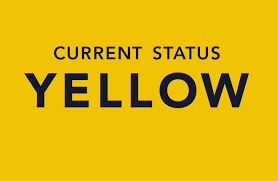 From the Desk of Dr. Sladek: ‼️‼️‼️REMINDER‼️‼️‼️ 💜TOMORROW THURSDAY 8/26❤️ Truman Elementary Picture Day is: Aug 26 Wagner Portrait Group will be photographing students for portrait packages & school records. ****NEW! ONLY ONLINE ORDERS WILL BE ACCEPTED.**** (Please do not bring checks, cash, or order forms to school as they will no longer be accepted.) CLICK HERE TO ORDER
https://bit.ly/3rMHT2Y
www.WagnerPortraitGroup.com
Online Pre-Order Password: 9G5T5V7 Can't order online or have other questions? We are happy to help! 314-567-5900 or 1-800-444-7986

From The Desk of Dr. Sladek: Welcome Back Truman Tribe! Remember to wear a mask on buses and remind students the importance of social distancing and hand washing. Prepare your student for being in classes with both mask and unmasked classmates (possibly staff) and emphasize both choices are acceptable in GREEN STATUS. We will be respectful to all Tribe Members. The color status is fluid and may change at any time based on the presence/spread of COVID-19 in our community. Let's start back safe and keep our fingers crossed for no quarantines this year! **Also, reminder... please have your student BRING A WATER BOTTLE! Our fountains are still out of use and students will only be able to fill their water bottle from them. I cannot WAIT to see you all tomorrow morning!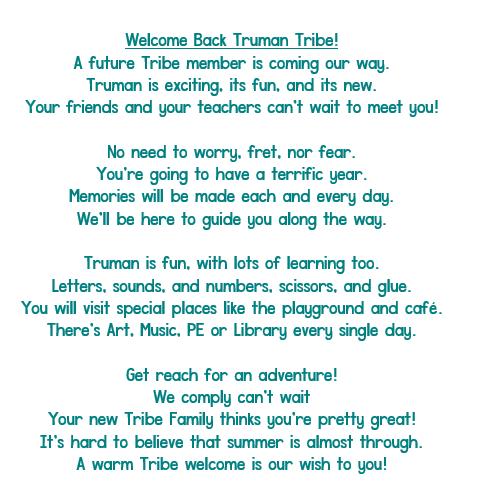 A Friday full of FUN and a weekend of last minute prep before the routine, excitement and adventure of back to school begins. Doors open on Monday August 23rd at 8:05am. *Parents will NOT be able to walk their child to the classroom. Nerves and all we cannot wait to love and care for your child and promise they will be smiling two seconds after you wave goodbye* Water Bottles and School Supplies!!! Our water fountains are still turned OFF. We will only be able to use the water bottle filler portion of the fountain. ALL STUDENTS NEED A WATER BOTTLE. We hope to have some back ups on the occasion your student forgets theirs. Here is the link to the school supply lists:
https://core-docs.s3.amazonaws.com/documents/asset/uploaded_file/1407017/2021-22__MVR-III_SCHOOL_DISTRICT_SCHOOL_SUPPLY_LIST___4_.pdf
See you soon 💜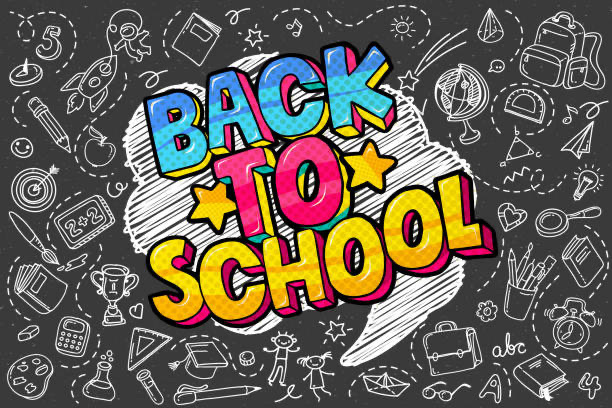 Meet & Greet is scheduled for Monday, August 16th from 6-7:30 p.m. Families will be grouped by their last name: A-G: 6:00-6:20 H-O: 6:30-6:50 P-Z: 7:00-7:20

Update! The online school supply store for grades K-4 has been updated to include crayons. The new School Tool Box kit for K-4 students is $28.00. Go to
www.schooltoolbox.com
then enter your child(ren)'s school name to purchase supplies. Tool Box kits will be shipped directly to your child(ren)'s school for the first day of school. We want to make this process easy for parents!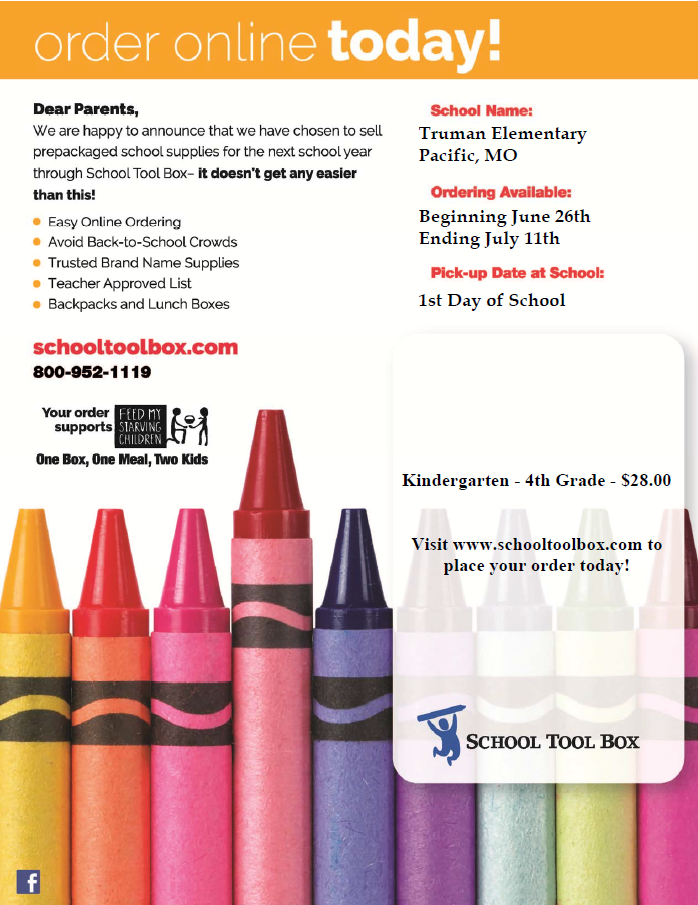 Happy Sunday Summer Discovery Families! I am reaching out to remind you of a few things as we close out this 2021 Summer Discovery Program. Tomorrow, Monday June 26th will be our WATER DAY! The Pacific Fire Dept. plans to come to our building around 10:00am and classes will have a scheduled time to go out to our field area and enjoy the BIG water sprinkler from the fire truck. Please have your students wear tennis shoes/water shoes or shoes that can get wet! We will be in the grass but flip flops and bare feet are too dangerous to allow. Please have them wear clothes that can get wet/dirty. I assumed the grass will flick up some mud but we do plan to move the hose around as to not turn one area into a mud pit! Have your child bring a towel and an extra pair of dry clothes to change into. Lastly, please apply sunscreen to your student before school! NO BATHING SUITS FOR WATER DAY! When students are not enjoying the fire dept. sprinkler they will be doing fun activities with their class around STEM related water experiments, water relays, and different fun challenges! What to pack for school tomorrow: Towel Tennis Shoes Dry Clothes Apply sunscreen before school Have your student wear clothes that can get wet/dirty\ Wednesday, June 30th is the LAST DAY of Summer Discovery. You're student will officially begin their summer break on Thursday, July 1st! Looking for some help with your kiddos from July 1st - August 6th? Check out our SACC program. Coleman and Truman will run their own SACC programs, at their own buildings. Here is the link get more information:
https://www.mvr3.k12.mo.us/page/school-age-child-care
and Here is the Online Registration Link:
https://mvr3.revtrak.net/rw-sacc/
I want to thank YOU for allowing Truman Elementary to host this Summer Discovery program, I applaud your patience and flexibility as many of us had to learn new faces, names, procedures, and environments all together. I am open to any feedback (positive or negative! - there are always things we can learn from with new experiences!), concerns or questions you may have... please feel free to reach out to me whenever at
jsladek@mvr3.k12.mo.us
or anytime on my cell via text or phone call 636-346-6156. Leading & Learning with a smile, Dr. Jenna Sladek

Updated background check process for anyone interested in volunteering this summer or next school year. This is an entire new process so anything on file previously will not hold. You have to start this new process and this will save on file for 5-6 years. Meramec Valley R-III School District Volunteer Background Checks If you plan to volunteer, attend field trips, or help in the classroom, you need a background check. Two background checks are now required. Please contact your child's school office, if you have any questions. Background Check #1: Website:
https://www.machs.mo.gov/MACHSFP/home.html
FBI/Highway Patrol Background Check Registration: All individuals must pre-register online for fingerprinting through the State Highway Patrol's Missouri Automated Criminal History Site (MACHS). Fingerprinting Fee: The fee for the fingerprinting process is $41.75. Background Check #2: Family Care Safety Registry:
https://healthapps.dhss.mo.gov/BSEES/Main.aspx?sk=SK751383528
*This background check does not expire and only needs to be done once. Screening Fee: The fee for the screening is $15.25. (Registration $14.00 & Processing $1.25). When you have completed the FBI/Highway Patrol Background Check and the Family Care Safety Registry Background Screening, please contact Central Office at 636-271-1400 for approval. Approvals may take 5 to 7 business days.

Summer Discovery - From the Desk of Dr. Sladek: Tribe & Warrior Families, Below you will find a bundle of information. The main two things I want to cover are FIELD TRIPS & Attendance. These seem to be the most frequent questions that have come about over the first week of school and as field trips begin you will be getting permission slips and hearing directly from your student's teacher. Field Trips: We will need chaperons. Parent Volunteers will have to DRIVE SEPERATELY from the student and staff buses and meet the group at the location. No students will be able to leave the location from the site after the fieldtrip – they will need to ride the bus back and then be checked out properly from the building. IF you are interested, able and willing there is a NEW background check process that our district will be implementing. This is new, within the last couple months, that includes FBI Fingerprinting and the use of our school code. More information on the process can be found here: Behavior Expectation Form to be completed ASAP!
https://www.mvr3.k12.mo.us/o/Robertsville/page/volunteer-background-check--29
The background checks on file can be verified through our central office, Mrs. Bridget McCaw, is who you can contact @ 636-271-1400. *Please be patient with our field trip process. Due to the lifting of COVID restrictions and bus availability, etc. we are still attempting to finalize dates, times and locations. Please contact your student's teacher if you have interest in chaperoning the upcoming field trip or any questions or concerns: Kindergarten – Ms. Schimsa
tschimsa@mvr3.k12.mo.us
Kindergarten – Ms. O'Hallaron
aohalloran@mvr3.k12.mo.us
Kindergarten – Ms. Peirick
apeirick@mvr3.k12.mo.us
1st Grade – Ms. Wadlow
rwadlow@mvr3.k12.mo.us
1st Grade – Ms. Barmeier
sbarmeier@mvr3.k12.mo.us
1st Grade – Ms. Thurston
sthurston@mvr3.k12.mo.us
2nd Grade – Ms. David
sdavid@mvr3.k12.mo.us
2nd Grade – Mr. Stolte
mstolte@mvr3.k12.mo.us
3rd Grade – Mr. Gilcrease pgilcrease@mvr3,k12.mo.us 3rd Grade – Ms. Seibert
eseibert@mvr3.k12.mo.us
4th Grade – Ms. West
cwest@mvr3.k12.mo.us
4th Grade – Ms. Meininger
cmeininger@mvr3.k12.mo.us
*Communication is so important. Over communication never hurts! If you have any uncertainty at all or questions please reach out to us! Attendance: There will be NO attendance prize money at the end of summer school. We are doing daily prizes and there are enough prizes for every student to receive one prize by the end of summer school. ***please check your email for the full email of information...

What has Truman Tribe been up to? Closing a chapter and making memories one day at a time. ✔️ Silly String stress release to celebrate MAP Testing completion ✔️ Role-Switch: students become the teachers and teach their class about something they are passionate about! ✔️ 1st Grade takes a quick trip to Pacific City Park for a morning of play ✔️ PHS Seniors take a walk through the halls for a farewell to their time at MVR3 💜👏 Have a great weekend Tribe‼️ Closing another week to this 20-21 school year.

What to expect over the next 7 and ½ days?! • Wednesday, May 19th – MVR3 Board Meeting @ 6pm. Mrs. Wadlow will be recognized for her District Teacher of the Year Award and Mrs. Lydon-Lorson will be recognized for her South-Central Regional Counselor of the Year Award. • Thursday, May 20th – First Grade Field Trip from 9:00-12:00pm. No Volunteers needed this is in-seat students and staff supervision only. • Friday, May 21st – Virtual Students will come to Truman Elementary SACC Wing by appointment only for EOY Testing. • Sunday, May 23rd – PHS Graduation @ PHS Stadium @ 3:00pm. LAST WEEK OF SCHOOL ----- • Monday, May 24th – 4th Grade Celebration Trip 9:00-2:00pm. No Volunteers needed this is in-seat students and staff supervision only. Kindergarten Graduation @ Truman Elementary [Graduation will be BY CLASS: Snyder – 1:00-1:30; Wadlow – 1:50-2:20; Herbst – 2:40-3:10] *You will park in the back/cafeteria lot or upper lot and enter through the cafeteria doors and exit through the SACC doors. • Tuesday, May 25th – 4th Quarter Celebration Day! *Students will rotate through stations; Obstacle Course (design and set up by our 4th Grade Students, a Zumba class, a chalk mosaic, and a watermelon snack station! • Wednesday, May 26th – Early Dismissal @ 1:10pm. Truman Elementary will celebrate Aloha Day! *Aloha Day will consist of; school-wide Zoom Bingo, Outdoor activities and memory book signing, and Beach Attire! LAST DAY OF SCHOOL FOR THE 2020-2021 SCHOOL YEAR! What. A. Year.

Did you know?! Interacting with animals has been shown to decrease levels of cortisol (a stress-related hormone) and lower blood pressure. Other studies have found that animals can reduce loneliness, increase feelings of social support, and boost your mood. As we kick off Teacher Appreciation Week at Truman Elementary, Staff will have time to visit and cuddle with puppies throughout the day tomorrow. However, we didn't want to stop the fun there. Truman Elementary has teamed up with local Home 2 Home Canine Orphanage and we want to provide an opportunity for our community to help find forever homes for these pups. We will host a Pet & Preview Event tomorrow from 4:00-6:00pm in our Cafeteria! Please consider stopping by!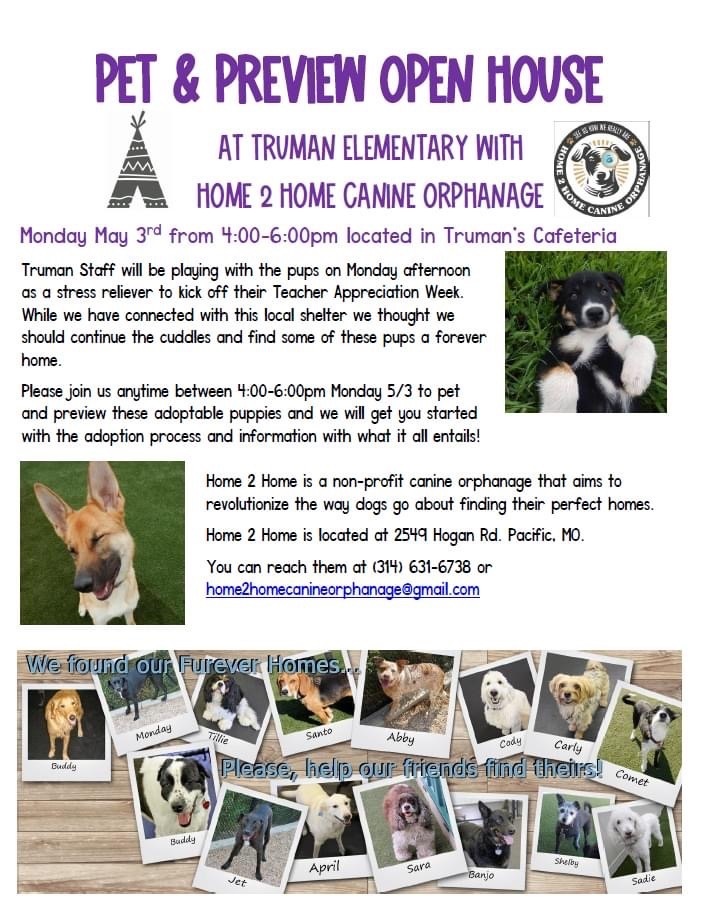 Save the date: Saturday 4/24! RSVP for the event here so we know how many to expect:
https://forms.gle/NCGJY1rM3Gke448J6
***You do NOT have to be a Truman family to participate...ALL are welcome!!!