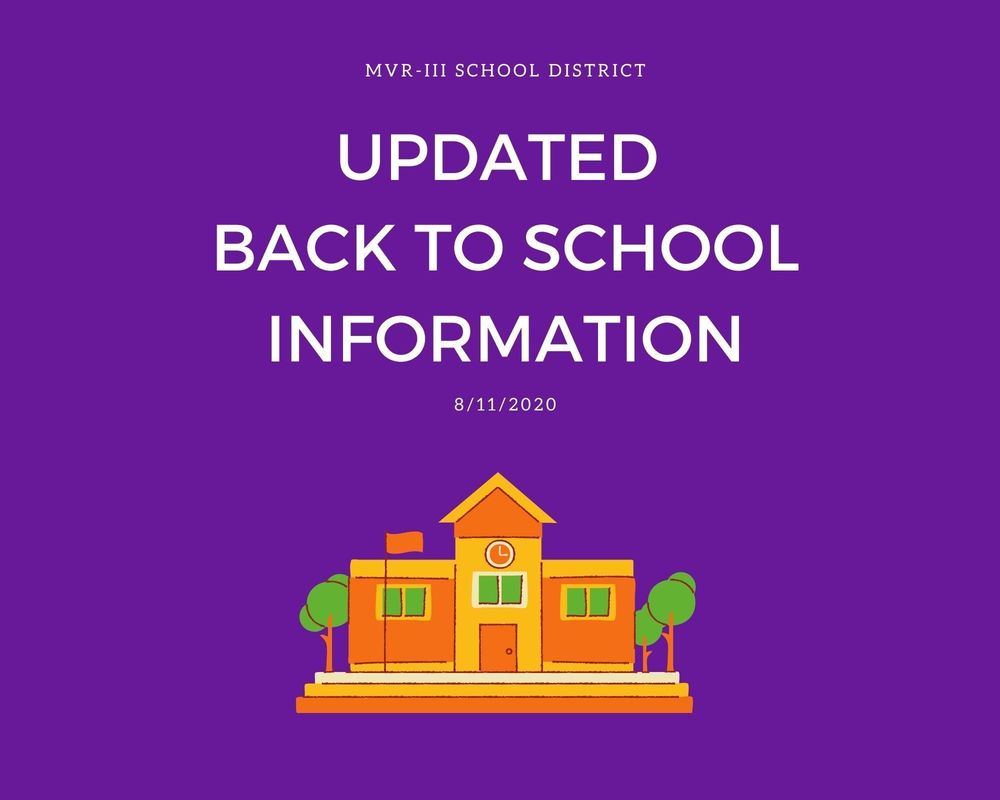 UPDATED BACK TO SCHOOL INFORMATION
MVR-III School District
Tuesday, August 11, 2020
We want to provide you with an update on our reopening plans for the 2020-2021 school year. As you recall, we gave families the option to choose 5 days in-person, 100% remote learning, or a hybrid learning option for at least the first semester. We are excited to welcome students back to school later this month in both physical and virtual classrooms across the MVR-III District.
On Monday, August 10th, the Meramec Valley R-III Board of Education approved a delayed start to the upcoming school year, making Wednesday, August 26th our official first day for both remote and in-person learning students. This move will give our teachers and staff the additional planning and prep time necessary to deliver the high-level education our students deserve and to ensure all staff is adequately trained on our health and safety protocols before students return.
To add consistency to our academic calendar for students, families, and staff, the Board of Education also approved the removal of all late start days until January 2021. The change will allow for consistent daily routines as we navigate the COVID-19 landscape.
Finally, the Board of Education approved starting the year in Yellow Status, allowing in-person learning five days a week for those who have selected that option, but with established safety protocols that must be followed. With that, the School Board also approved amended language to the Orange Status level that moves to a blended model for grades 6-12 should that change be needed.
MVR-III recognizes that schools are not immune to COVID-19. It is likely that positive exposure will occur as we progress through the year. The District's focus is on managing the learning environment well so that we can minimize the spread among students and staff.
We ALL have a shared responsibility and obligation to make this work. We've put safeguards in place, but we need students and staff to follow the protocols. As parents and guardians, we ask you to help your child(ren) understand the importance of wearing a face-covering while in school, practice physical distancing, washing hands, and all the other good hygiene practices that have been shown to slow the spread of the illness. Additionally, please monitor your child(ren) for any COVID-19 symptoms each day before they go to school. Please keep them home if they experience any symptoms at all until you have spoken with your family's health provider and have spoken with the school nurse.
This year will bring challenges for all of us to work through. However, we can do what's best for kids by working together to navigate the 2020-2021 school year. We look forward to seeing your child(ren) on Wednesday, August 26th for in-person and virtual learning.
**Later this week, NEW Open House dates will be sent to families.
***Use the following link to access the Board of Education approved COVID-19 Return to Learning Plan
Sincerely,
MVR-III School District