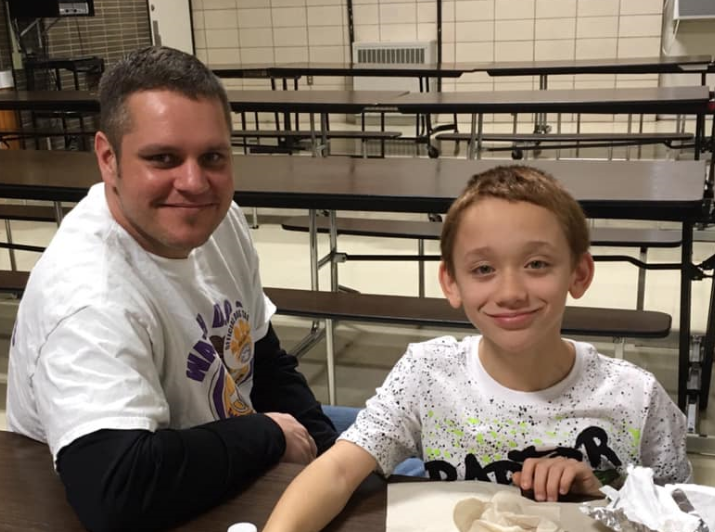 WATCH D.O.G.S. (dads of great students) is a national innovative program focusing on the prevention of violence in our children's schools by using the positive influence of fathers and father-figures for two purposes:

1) To provide positive male role models for the students, demonstrating by their presence that education is important.

2) To provide extra sets of eyes and ears to enhance school security and reduce bullying.

WATCH D.O.G.S. are fathers, grandfathers, uncles, and any other father-figures who volunteer as a positive presence for at least one whole school day each year at an official WATCH D.O.G.S. school.

Please complete the sign up below if you are interested in serving as a WATCH D.O.G.S. at your child's school!
The MVR-III School District believes parent involvement is a key factor in the success of a student's academic progress. No matter the income or background, students who have involved parents are more likely to have higher test scores and student attendance, have better social skills and have the means to adapt to new situations.
There are many opportunities for parents to get involved in their student's schooling.
Join a school parent group---Parent Teacher Organization, Band Boosters, JROTC Booster, and Sports Club are just a few of the district's parent groups.

Attend school conferences

Attend Curriculum Nights

Volunteer
The additional links off of this page are to assist parents with the home to school connections. MVR-III seeks to promote positive relationships with students, parents, and the community.
2022-2023 School Calendar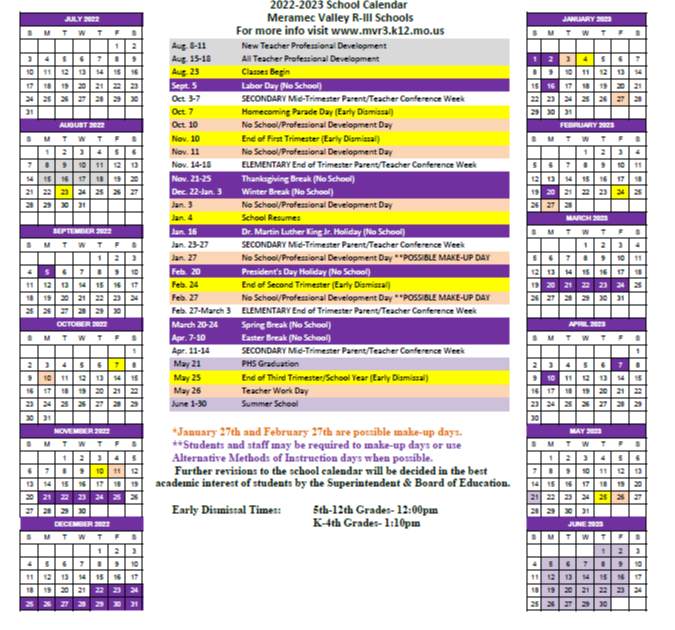 School

Address

Contact

Administrators

Hours

425 Indian Warpath Drive
Pacific, MO 63069

Main:
636-271-1414

Fax:
636-271-1420

Principal:
Dr. Dan Kania

Assistant Principals:
Jeff Hermann
Andy Herbst

School Hours:
7:30 - 2:35

Office Hours:
7:00-3:00

425 Indian Warpath Drive
Pacific, MO 63069

Main:
636-271-1411

Fax:
636-271-1419

Director:
Blair Thompson

Office Hours:
7:00-3:00

2085 Highway N
Pacific, MO 63069

Main:
636-271-1481

Fax:
636-271-1485

Principal:
Todd Dempsey

Assistant Principal:
Ken Grodie

School Hours
7:30-2:35

Office Hours
7:00-3:00

195 North Indian Pride Dr.
Pacific, MO 63069

Main:
636-271-1425

Fax:
636-271-1465

Principal:
Matt Agee

Assistant Principal:
Josh Grodie

School Hours
7:30-2:35

Office Hours
7:00-3:00

4536 Coleman Road
Villa Ridge, MO 63089

Main:
636-742-2133

Fax:
636-742-2281

Principal:
Lisa Weirich

School Hours
8:35-3:40

Office Hours
8:00-4:00

2264 HWY AP
Catawissa, MO 63015

Main:
636-271-1444

Fax:
636-271-1447

Principal:
Jessica Tollison

School Hours
8:35-3:40

Office Hours
8:00-4:00

4000 Highway N
Robertsville, MO 63072

Main:
636-271-1448

Fax:
636-271-1450

Principal:
Dan Munson

School Hours
8:35-3:40

Office Hours
8:00-4:00

101 Indian Warpath Drive
Pacific, MO 63069

Main:
636-271-1434

Fax:
636-271-1490

Principal:
Dr. Jenna Sladek

School Hours
8:35-3:40

Office Hours
8:00-4:00

255 S. Indian Pride Dr.
Pacific, MO 63069

Main:
636-271-1440

Fax:
636-271-1443

Principal:
Keith Orris

School Hours
8:35-3:40

Office Hours
8:00-4:00

228 South Indian Pride Dr.
Pacific, MO 63069

Main:
636-271-1464

Fax:
636-271-1456

Principal / Homeless Coordinator:
Ryan Gregory

Tuition Hours
8:00-4:00

Office Hours
7:30-4:00

228 South Indian Pride Dr.
Pacific, MO 63069

Main:
636-271-1464

Fax:
636-271-1456

PAT Supervisor:
Ryan Gregory

2256 Highway AP
Catawissa, MO 63015

Main:
636-271-1470

Fax:
636-271-1474

Director:
Scott Roper

Office Hours
8:00-4:00

101 Indian Warpath Drive
Pacific, MO 63069

Main:
636-271-1434

Fax:
636-271-1490

Health Coordinator:
Barb Heger, R.N.

Office Hours
8:00-4:00

136 West Union
Pacific, MO 63069

Main:
636-271-1402

Fax:
636-271-1430

Director:
Debbie Haley

Office Hours
8:00-4:00

119 W. St. Louis St.
Pacific, MO 63069

Main:
636-334-4580

Director:
Dr. Quinn Flexsenhar

Office Hours
7:00-3:00

4536 Coleman Road
Villa Ridge, MO 63089

Main:
636-271-1459

Fax:
636-271-1460

Director:
Channa Ransom

Office Hours
8:00-4:00