General Information
As health experts learn more about COVID-19, this document may continue to evolve to better inform school operations in Missouri and provide guidance on further protocols to prevent the spread of this virus. It is also important to note that the school board and local jurisdictions have the authority to implement more or less restrictive preventative measures as the need arises. This plan will be reviewed at the monthly Board of Education meeting.
Thank you to our stakeholders groups for providing the District input on the plan. Stakeholders include; Pacific High School students, parents, staff, and the Board of Education.
Contact the Communication Department for a copy of the plan in another language.
Stay healthy & well,
MVR-III School District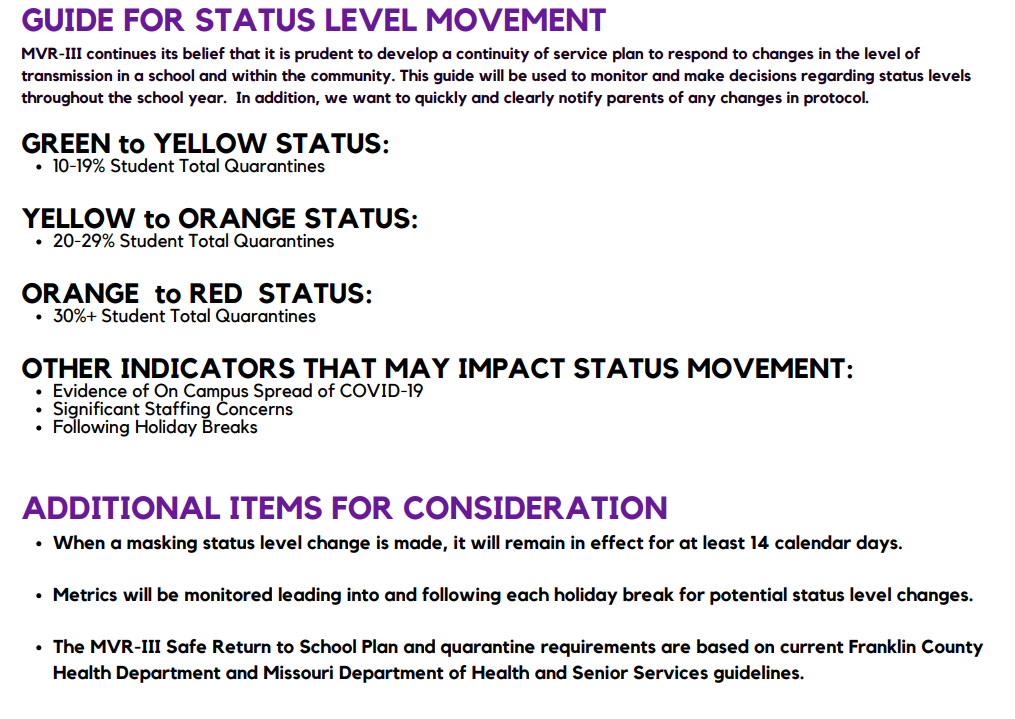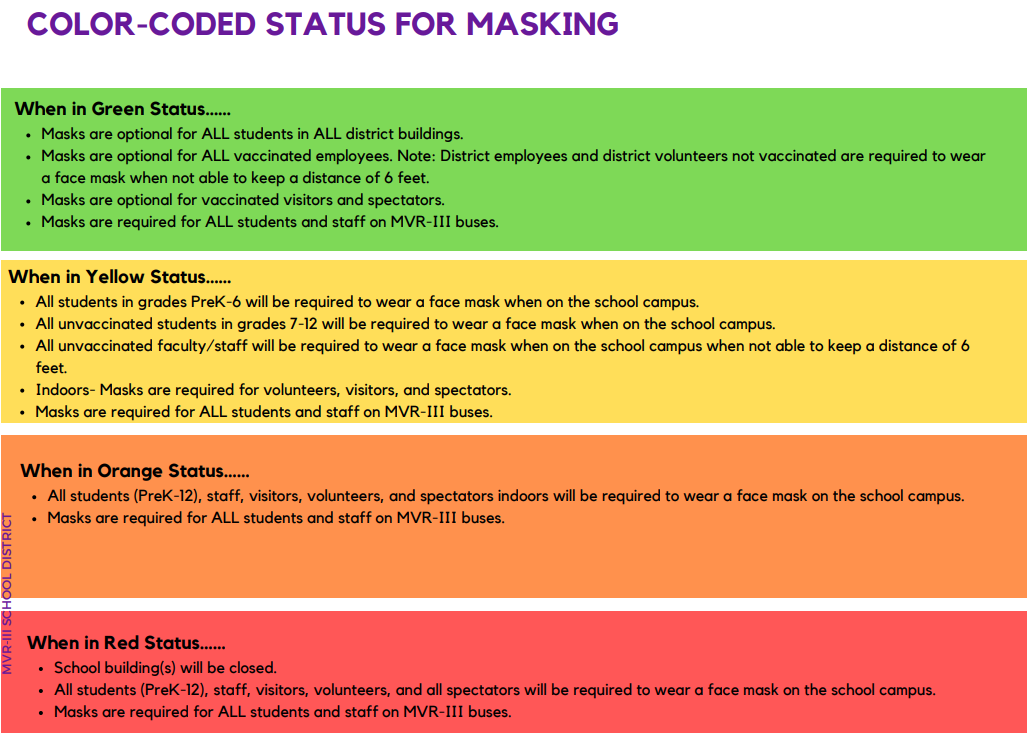 Frequently Asked Questions
Updated June 16, 2021
As we continue to adjust to the COVID-19 situation, we are working to keep our families informed. We encourage parents, guardians, and students to access this Frequently Asked Questions (FAQ) sheet for general information. Additional FAQ's will be added and information will be updated as needed. If you cannot find your answer below, please feel free to reach out to your child's school office.
What are the district's general guidelines?
As the MVR-III School District moves forward with normal routines and processes, the district will follow it's Safe Return to In-Person Instruction and Continuity of Service Plan (SRCSP) to help the community have a basic understanding of the structures in place during the COVID-19 pandemic.
What are the quarantine guidelines?
The MVR-III School District must follow the Franklin County Health Department and Department of Elementary and Secondary Education's guidelines on quarantine.
Where can students age 12+ get the COVID-19 Vaccine?
The CDC recommends everyone 12 years of age and older get a COVID-19 vaccination to help protect against COVID-19. Widespread vaccination is critical to help stop the pandemic. Getting your child or teen vaccinated can bring you one step closer to enjoying the activities you miss. Getting a COVID-19 vaccination can help protect your child from getting COVID-19. Early information shows that the vaccines may help keep people from spreading COVID-19 to others. They can also help keep your child from getting seriously sick even if they do get COVID-19. Help protect your whole family by getting yourself and your children 12 years and older vaccinated against COVID-19.
A variety of locations are offering the Pfizer vaccine. Those under the age of 18 must have a parent or guardian present to receive the vaccine.
Please let us know if your child receives the vaccine
If your child receives the vaccine, please notify your school nurse with either a copy of their CDC vaccine card or medical documentation stating when the student received their vaccines. Our schools are following the CDC guidelines when it comes to determining if a student needs to remain off campus following an exposure. In most instances, a fully vaccinated student will not be asked to remain off campus following close contact with someone who tests positive for COVID-19.
What should I do if my child(ren) has failed the morning routine self-check screener?
Students with symptoms should not attend school and parents should consult their healthcare provider and follow CDC considerations regarding their return to school. For students who are diagnosed with COVID-19, either by a laboratory test or based on their symptoms, return to school is permissible when the student is at least 10 days from symptom onset, has had three days with no fever, and has improving symptoms. Return to school for children with an alternate diagnosis is at the discretion of their healthcare provider and/or the school nurse. Children with a known close contact with COVID-19 (or an adult with symptoms compatible with COVID-19) should stay home for 14 days from their last contact and until return to school is approved by the local health department in accordance with the CDC guidance. Please notify the school nurse of your child(ren)'s symptoms.
Where can I find WiFi Access Points for my students?
MVR-III is now offering permanent outdoor Wi-Fi access on six of the eight campuses. Pacific High School and Riverbend Middle will have Wi-Fi access installed soon. Below is the information for connecting to that Wi-Fi:
Wi-Fi Name (SSID) – MVR3-Guest
Password – Guest@ccess!