The United States Marine Corps recently recognized the Pacific High School Junior Reserve Officers' Training Corps (MCJROTC) program as a Naval Honor School. This distinction, based on exemplary performance over the previous 12 months, is presented annually to only 10-15% of all programs nationwide. PHS MCJROTC has earned this award in 14 of the last 16 years.
Brian Cain, Senior Marine Instructor for the program, stated, "Last school year was exceptional… We had a dozen or so very effective cadet seniors that made our entire program and the high school better."
Criteria for selection includes cadet community service hours, drill & marksmanship competitions to include rankings, JROTC & Military Academy selections, student leadership positions within the school aside from JROTC, and award presentations to cadets from local military organizations such as the VFW, the American Legion, the Purple Heart Association, and others.
PHS MCJROTC was also honored during the Special Recognition portion of the October MVR-III School Board Meeting (pictured below).
Looking forward to the success of this year's group, Mr. Cain added, "The effort remains consolidated and compelling amongst all stakeholders."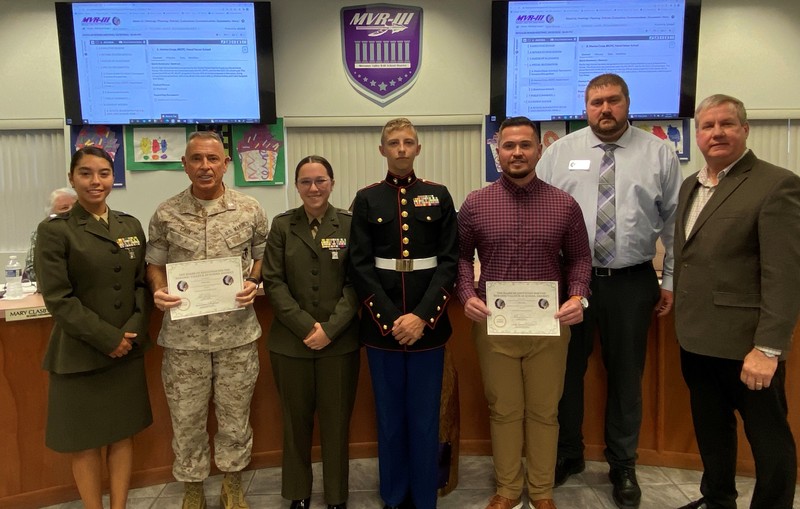 From left: Cadet Lt. Aaliyah Haddox, Senior Marine Instructor Brian Cain, Cadet Lt. Malissa Dailey, Cadet Sergeant Tyler Blake, Instructor John Cain, PHS Principal Dr. Dan Kania, MVR-III Board Member Mike Klenke