Two Pacific High School teams performed at impressively high levels during the past week. The MCJROTC Marksmanship Team qualified for Nationals by placing 2nd in the Midwest regional, and the Speech Team won the Four Rivers Conference championship.
Speech nearly swept the conference event at St. James, winning twelve of the fourteen competition rooms. The following students placed first:
Bella Jones, Storytelling
Paige Robbins, Prose Reading
Ava Deusinger & Maleah Gerdes, Duo Interpretation
Bella Guenzler, Dramatic Interpretation
Kadence Schaecher, Poetry Reading
Drew Roemer, Extemporaneous Speaking
Jake Whitehead & Caleb Cancienne, Duet Acting
Maleah Gerdes & Ellie Nahm, Duet Acting
Bella Guenzler, Poetry Reading
Caleb Cancienne, Radio Speaking
Drew Roemer, Original Oratory
Ellie Nahm, Informative Speaking
Brad Swanson, Radio Speaking
In Marksmanship, junior Malissa Dailey finished 2nd overall amongst over 150 competitors, sophomore Brooke McKay finished 1st in the new shooter category and 3rd overall, and junior Annabelle Schneider finished 2nd in the new shooter category. The team, composed of Dailey, McKay, senior Robert Quade, Jr., Schneider, and senior LilyAnn Shuls, will advance to the national tournament in Ft. Benning, GA, on January 18th, 2023.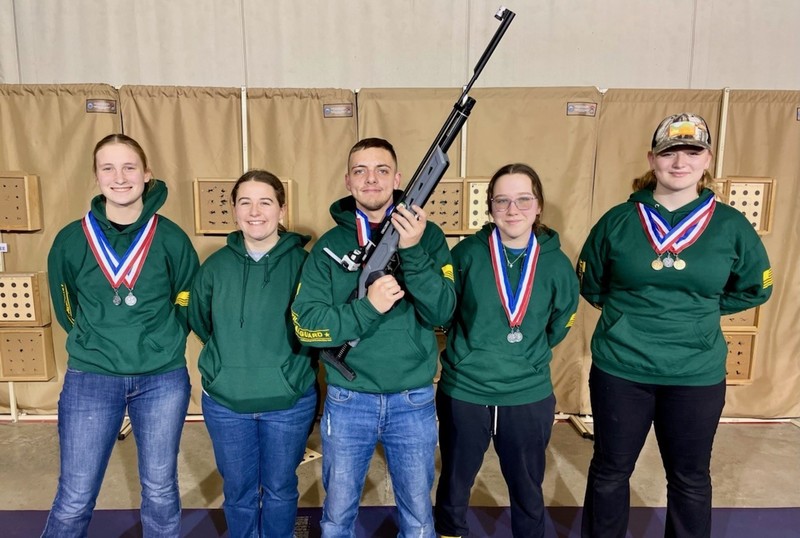 Marksmanship Team (from left to right): Annabelle Schneider, LilyAnn Shuls, Robert Quade, Jr., Malissa Dailey, and Brooke McKay