Learning resumes on Monday, November 30th for all students. Grades 7-12 will be learning remotely for the week, while students in grades Pre-K through 6th grade will return to in-person learning. All grade levels (K-12) will be required to wear face masks when classes resume on Monday. We ask that you not send your child to school if they are exhibiting any symptoms of illness, no matter how mild. Don't forget to bundle the little ones up for the cold temperatures forecasted for the upcoming week. Stay safe and healthy! #MVNation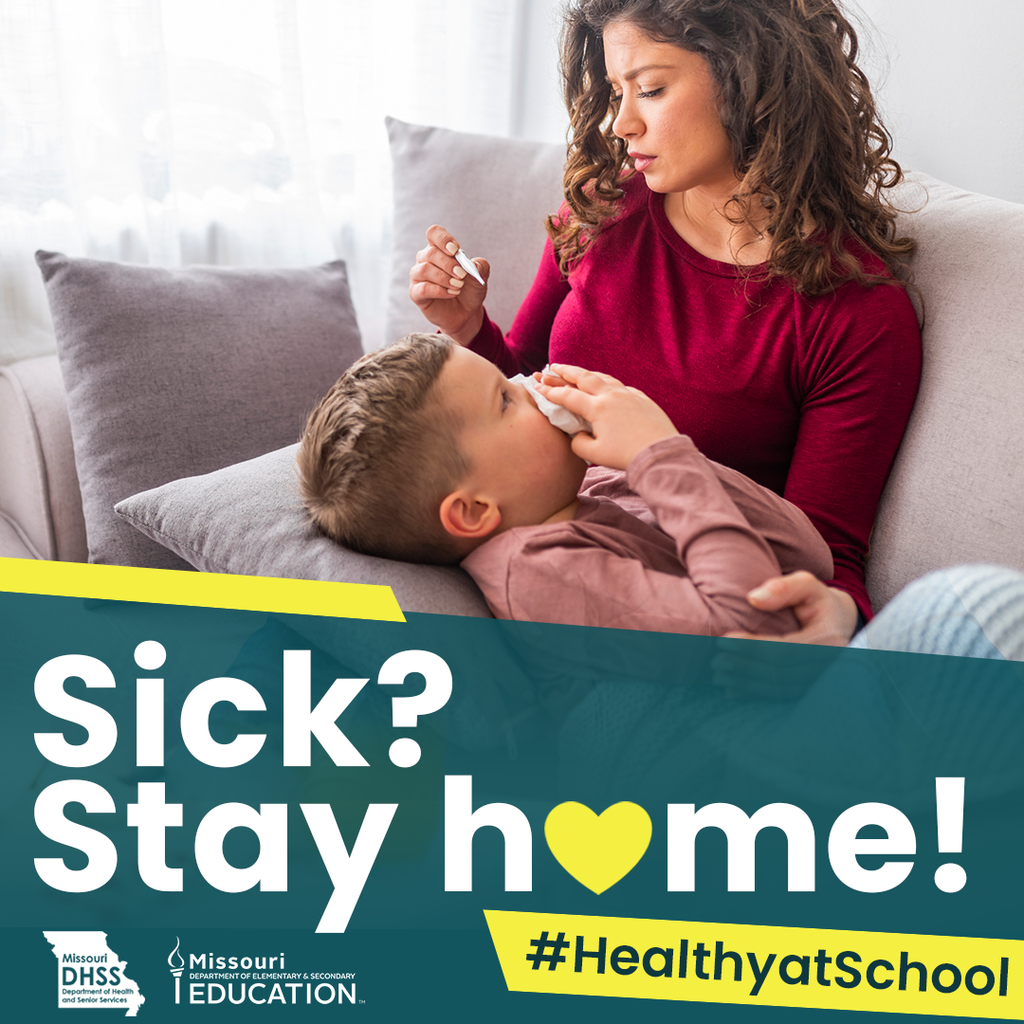 Upcoming changes to the weekly meal distribution sponsored by New Hope Fellowship Church. See the flyer for details. #MVNation #thankful #kindness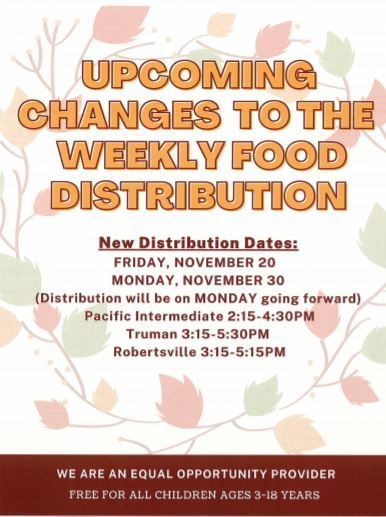 St. Bridget of Kildare Cafe' is providing a carry out or delivery Thanksgiving Dinner to area residents. The dinner is Thursday, November 26th from 11 a.m.-2 p.m. See the flyer for details. #MVNation #St.Bridget #Thanksgiving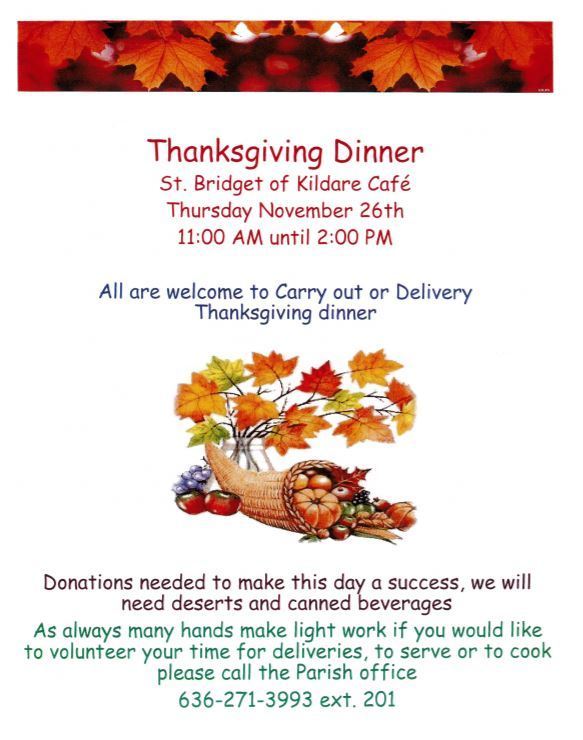 Attention MVR-III families...Free meals are being handed out to anyone 18 years and younger until 3 p.m. at Pacific Intermediate. 5 breakfast and 5 lunches are available per child. This is open to the public. All families are welcome!
Today we recognize our Custodial, Maintenance, and Technology Departments for the work they do in our schools. Help us show appreciation to these MVR-III employees. #thankful #TopWorkplace2020 #MVNation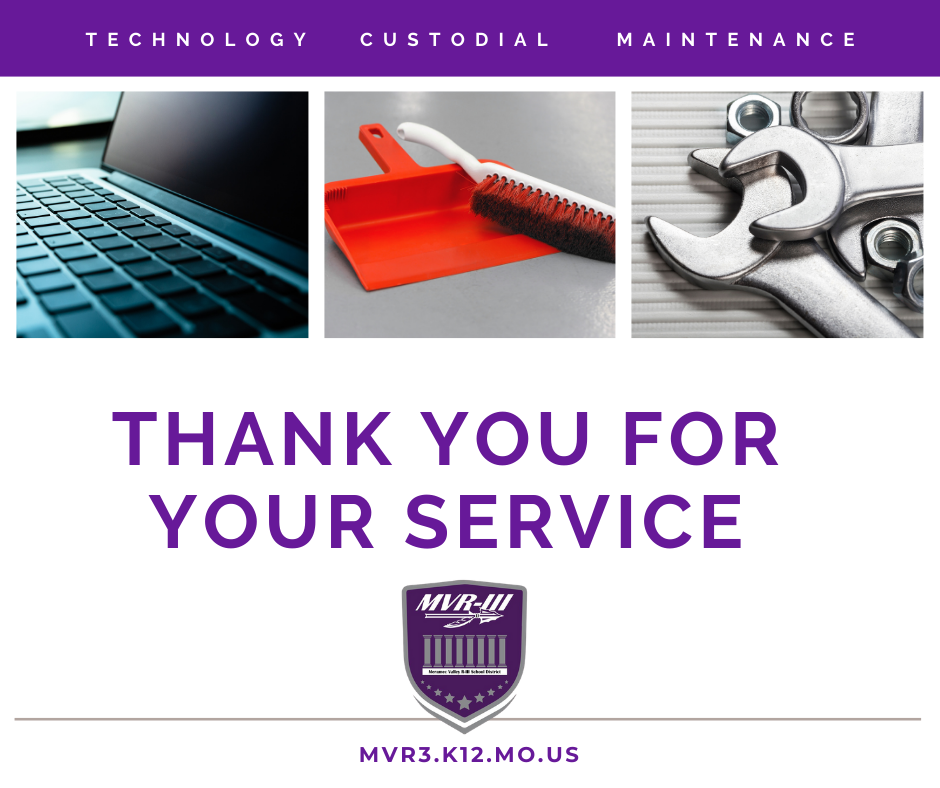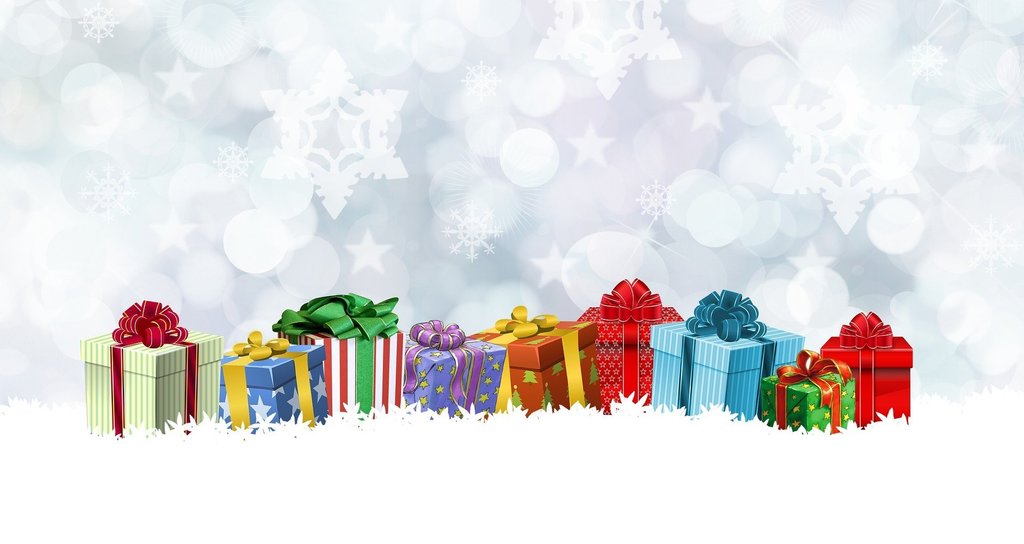 Help us feed 150 families for Thanksgiving. B&H has ready made food baskets for purchase to accompany turkeys & bread to make a Thanksgiving feast. All you have to do is buy the basket while you are shopping. MVR-III will collect the donated baskets & distribute them to families. All donations are appreciated! #Thanksgiving #B&H #NBLC #MVNation Read the full story at
https://www.mvr3.k12.mo.us/article/336935?org=mvriii
MVR-III is working hard to keep it's doors open and our students in school, but we need your help! By taking the following precautions, we can limit the need for students to miss school due to exposure. #teamwork #MVNation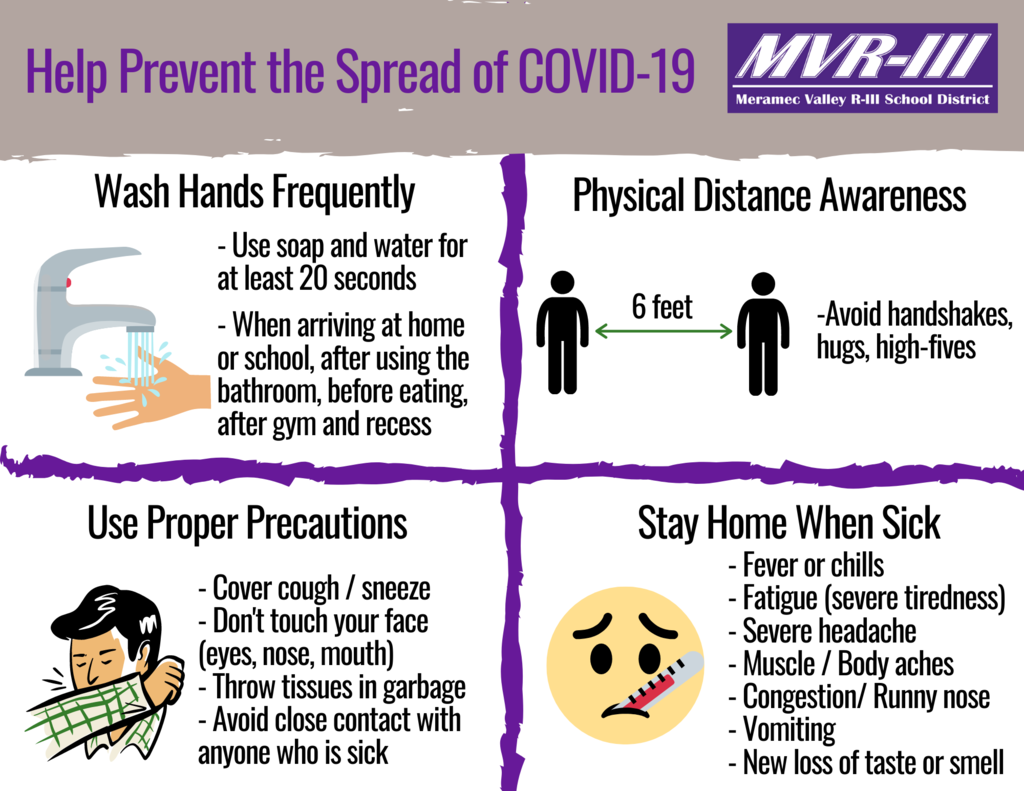 Coleman Elementary is partnering with the American Red Cross to host a blood drive through the Pint-Size Hero program. This program will introduce students to the importance of blood donation. Students will have the opportunity to show leadership and help save lives by recruiting blood donors for the upcoming blood drive. You can support the school and help save lives by donating blood, recruiting other donors or volunteering at the blood drive. Visit redcrossblood.org and use sponsor code: ColemanES. For questions, please contact:
mcalvin@mvr3.k12.mo.us
.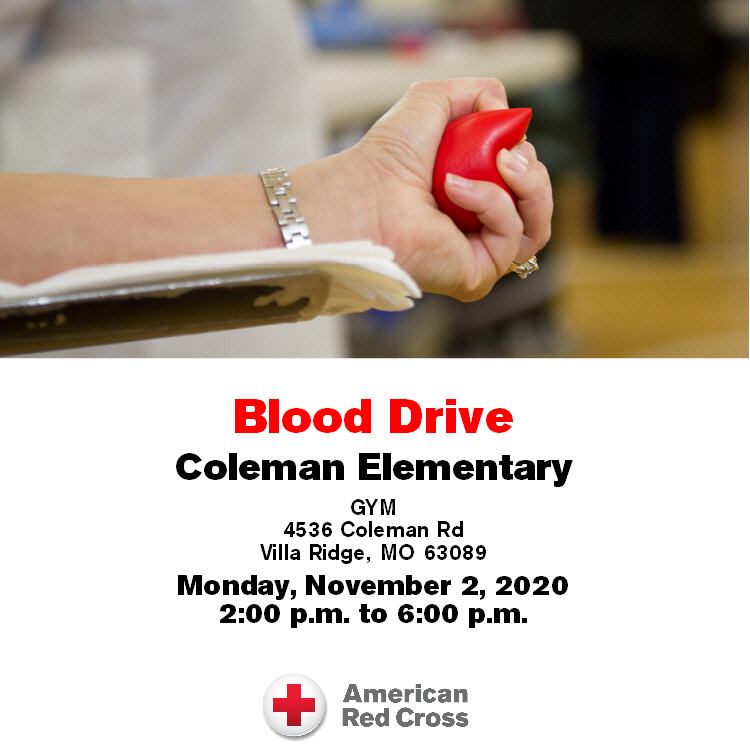 The Pacific High School home varsity football game against St. James scheduled for Friday, October 23rd, and the home JV football game against St. James scheduled for Monday, October 26th, have been canceled. This decision was made due to the continuation of a number of athletes having to quarantine due last week's positive COVID-19 exposure on campus, coupled with a number of injured athletes. We appreciate the community's support during the Indian's regular season. District play begins Friday, October 30th.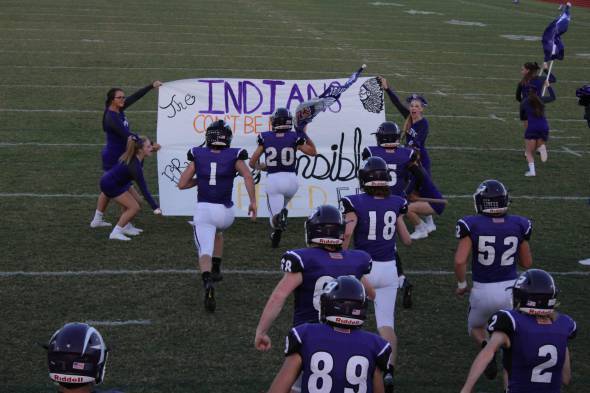 New Hope Fellowship Meal Update---Meals are available on Fridays through December 18th at the following locations & times: Pacific Intermediate: 2:15-4:30 p.m. and Truman & Robertsville Elementary Schools: 3:15-5:30 p.m. Thank you, New Hope Fellowship Church!
At exactly 10:15 a.m., students across the district participated in the state-wide earthquake drill. The "Drop, Cover, HoldOn" technique was used to teach students to protect themselves in the event of an earthquake. #MVNation #GreatShakeOut
Let's take a moment to thank our school nurses for the job they do for our students. Leave some love in the comments for them to read and feel appreciated. #MVNation #showappreciation #stayhealthy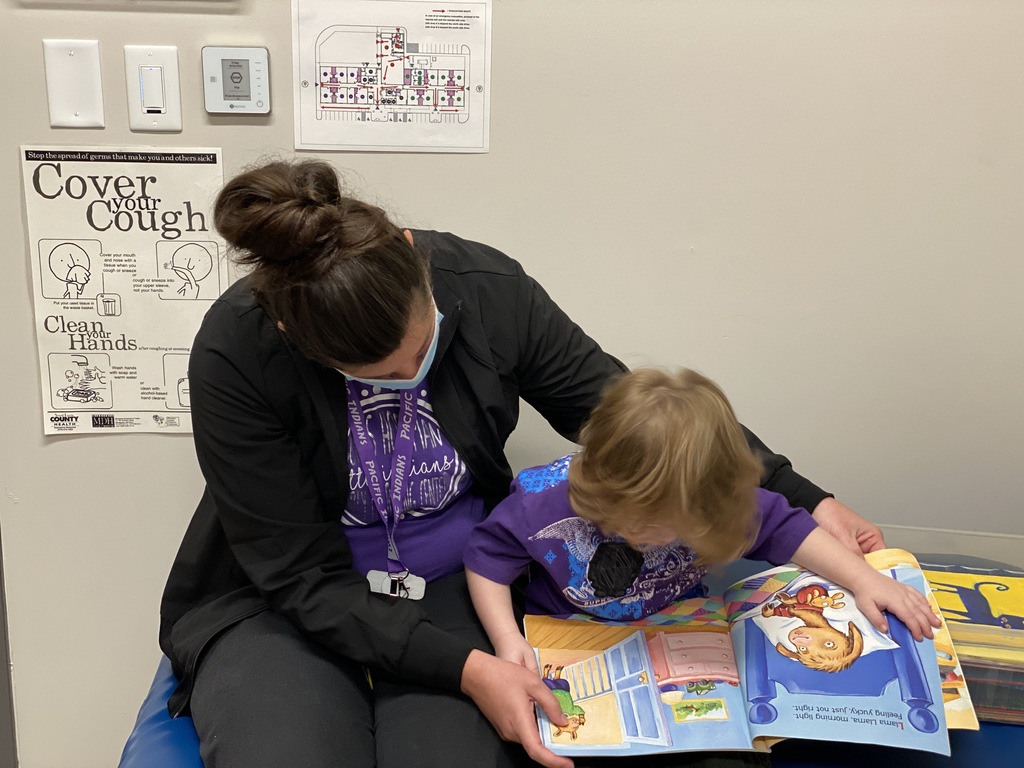 Yum! Yum! Students in the PHS Family and Consumer Science class prepared pizzas for their food lab. Their main learning objective was to demonstrate food safety and sanitation procedures while cooking. #MVNation #PHS #food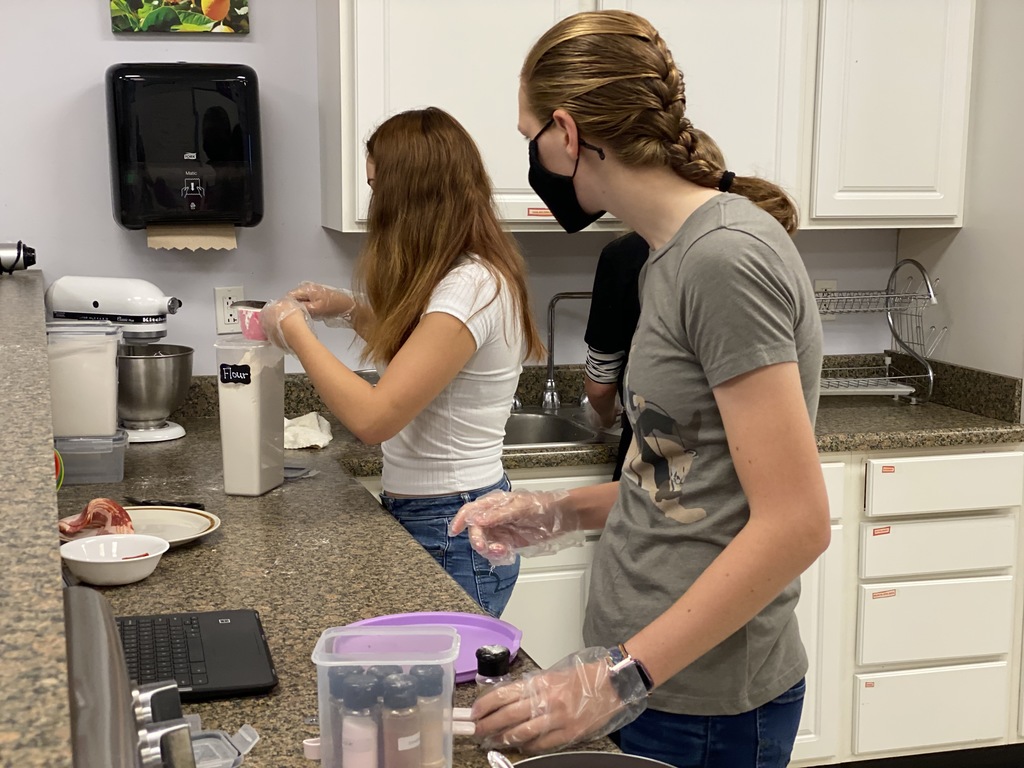 First Responder Safety Events> Saturday, Oct. 10th from 12-1 p.m. FREE equipment demonstration on the Doris Hoffman Early Learning Center Parking Lot. Sunday, Oct. 11th from 12-3 p.m. FREE hot dogs and treats while visiting with first responders at the Pacific Fire House. #PFD #FireSafetyWeek #FirstResponders #MVNation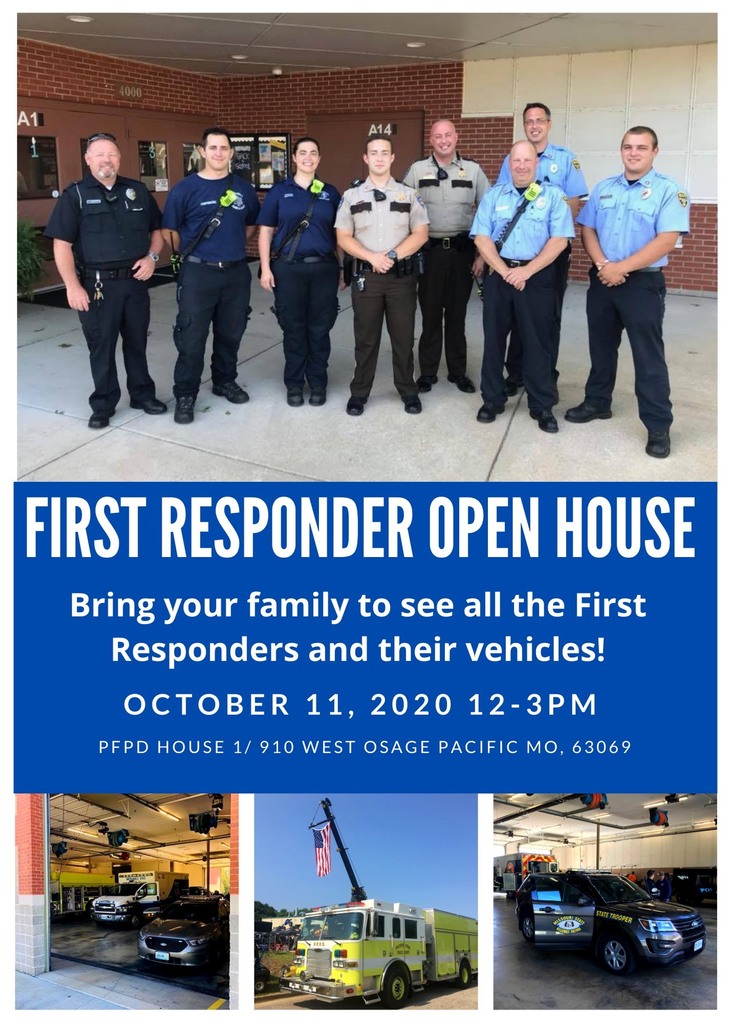 This week is fire safety week and this year's theme is "Serving Up Fire Safety in the Kitchen" and focuses on cooking safety. Cooking is the #1 cause of home fires & home fire injuries. This is a great time to discuss with your family and friends the importance of fire safety as we begin the holiday season! #firepreventionweek2020 #cookingsafety #MVNation #PFD
MVR-III merchandise store extended until Monday, Oct. 5th. Take a look at the
www.MVR3Merch.com
online store to purchase t-shirts, hoodies, and more. Text option available by texting MVR3 to 900900. Happy shopping!! #MVNation
The MVR-III School District is able to provide FREE breakfast and lunch for all students through the Department of Health and Senior Services. This program will last until Dec 31, 2020 or until funding runs out. Good news, there is NO registration required. It is automatic for all students. Any student that purchased a regular school lunch during August 31st through September 29th will get a refund in their student meal account. Please allow the District time to manage student meal accounts to refund the regular lunch meals. The free breakfast and lunch meals are available to anyone 18 and under in the MVR-III community. Meals may be picked up Monday through Friday at any school site from 12:30 - 1:00 p.m.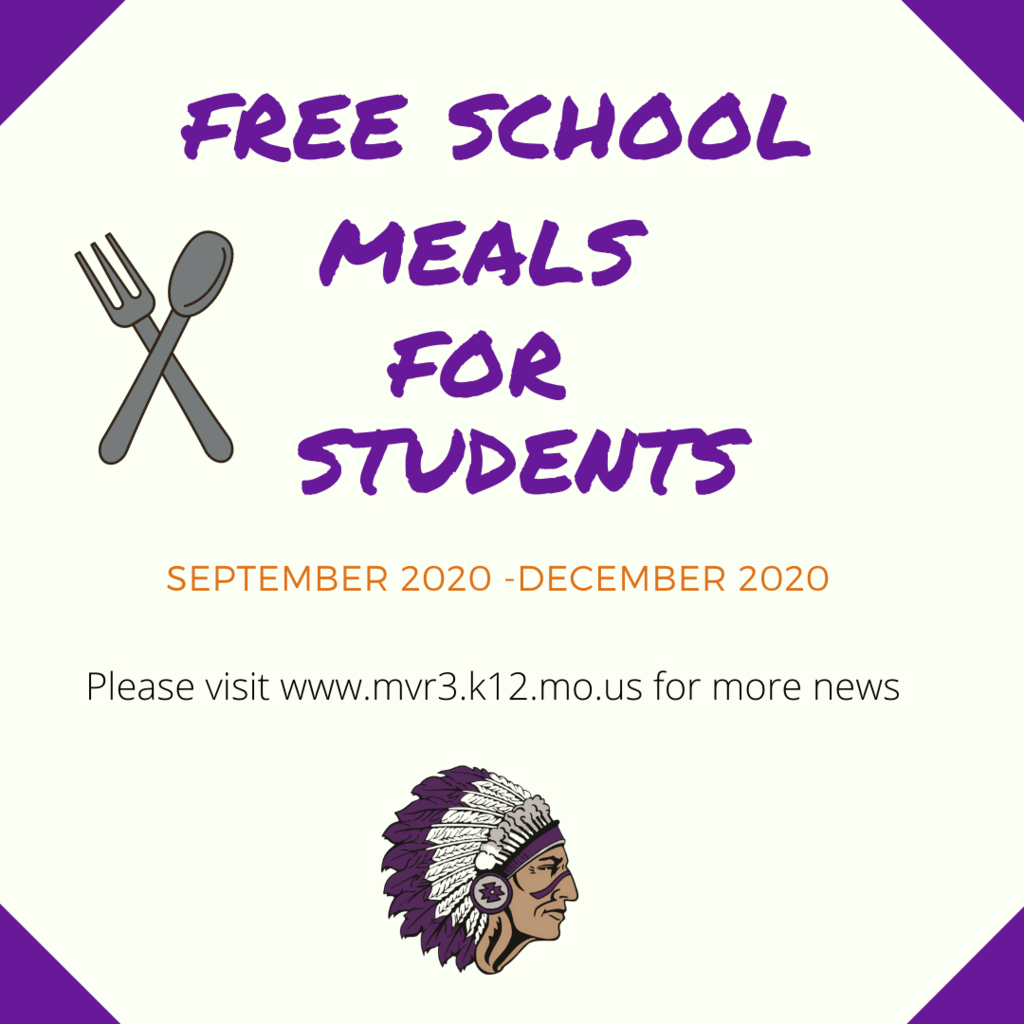 New Hope Fellowship will once again be distributing meals for children in the community! Every child will receive 7 dinners, 7 snacks, & 1 gallon of milk. Meals can be picked up each Friday through December 18th. Pacific Intermediate: 2:15-4:30 p.m., Robertsville Elementary: 3:15-5:15 p.m., & Truman Elementary: 3:15-4:30 p.m. The stations will be distributing meals until their out of food or the station closes.